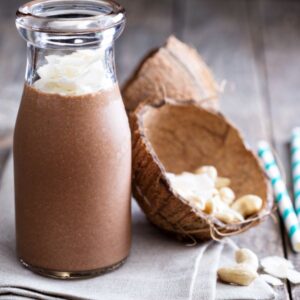 When you make a cake or batch of cookies, the recipe typically includes eggs, milk, butter, flour and baking powder. Yet, these dairy and animal products are not part of a vegan diet.
It's possible to bake while maintaining a vegan or plant-based lifestyle! Consider these common ingredient substitutes to update your favorite dessert recipes.
Vegan Milk
In general, cow-sourced milk can be replaced with a vegan or plant-based alternative in a one-to-one ratio. This straightforward swap applies to soy, coconut, nut-based, pea and quinoa milk. Of these, soy has the greatest amount of protein and reacts in a similar fashion.
Beyond replacing the milk in a recipe, also consider:
Flavor: Think about how the flavor of the milk alternative you choose with affect the result. For example, coconut milk and anything with a light vanilla or other sweet flavor provides a similar aftertaste to cow milk.
Sweetening: Certain vegan milks have sweetener added, so you're advised to decrease the amount of sweetener from other sources to keep the overall flavor more balanced.
Fat Content: Vegan milks with a higher fat content deliver a richer, fuller texture that's similar to traditional dairy. Aside from soy, coconut and oat milk add a moist texture and flavorful taste to the finished product. Lighter fat milks add moisture and can be used as substitutes for 2% and skim varieties.
For Cream and Butter Milk
These dairy products add a richer texture, more intense flavor and moisture to a recipe. Common substitutes include:
Coconut or cashew cream in a one-for-one swap
These sources, plus a squeeze of lemon juice, can substitute sour cream
For the tang of buttermilk, add two tablespoons of white or apple cider vinegar to vegan milk
Vegan Butter
Butter serves as a binder and moisture source. More stores now carry vegan butter alternatives, but you can substitute coconut and other neutral-tasting oils roughly one-for-one, once melted.
However, this substitution only works if the recipe calls for melted butter. For a solid or softened alternative, you'll need to store the coconut oil at room temperature. As this source tends to warm at a faster rate, any dough you create may need to be chilled before putting your creation in the oven.
Aside from these sources, apple sauce, smashed avocado, pumpkin puree and sweet potato puree all offer similar binding properties. In these cases, consider how the ingredient's flavor will influence the recipe's overall composition.
Egg Substitutes
Egg replacements are also growing in popularity and variety. These generally come in powdered form and need to be mixed with water ahead of time to help a recipe rise or give it a lighter, fluffier texture.
Aquafaba, or chickpea water helps create a foamy, meringue texture for pies and cookies. Substitute three tablespoons per one egg.
If you're not able to find an egg substitute, or if eggs are simply being used as a binder, some vegan alternatives include:
Silken tofu, softened to a creamier consistency and combined with baking powder
Chia seeds soaked in three tablespoons of water until they take on a gel-like consistency
Mashed bananas, with half a banana in place of one egg
Apple sauce, with one-quarter cup in place of one egg
Potato starch
Arrowroot powder
Tapioca starch
Cornstarch
Vegan Sweeteners
Based on their source and processing method, sugar and honey are not vegan. Substitutes used with a one-to-one replacement include:
Maple syrup
Brown rice syrup
Agave nectar
Coconut nectar
Monk fruit nectar
Date syrup
Apple honey
Sweet potato nectar
Corn syrup
Molasses

Interested in trying out vegan desserts? Finish your meal at Colony Diner with a slice of our vegan cake or pie, a few scoops of vegan ice cream or a milkshake! Stop by our Wallingford restaurant or place an order for pickup today.