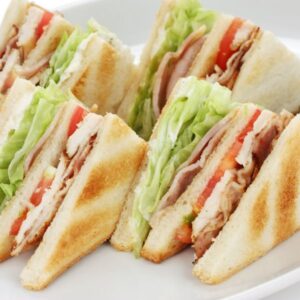 When you order a club sandwich, you often get a plate with stacked, toasted bread layered with turkey or ham, bacon, ham, lettuce, tomato and mayonnaise. Although ingredients can vary, the composition is both simple and recognizable.
What are the origins of the club sandwich?
History of the Club Sandwich
Today, a myth exists about the club sandwich: that its spelling stands for "Chicken and Lettuce Under Bacon". The origins of this acronym go back to 19th century clubhouses in New York. The Saratoga Club House in Saratoga Springs claimed it introduced the sandwich in 1894 and the Union Club, located on Fifth Avenue in New York City, added a "clubhouse sandwich" to its menu five years earlier.
The Union Club sandwich served as a template for the modern-day combination: two toasted slices of thin Graham bread with turkey or chicken and ham in between.
At the same time the Saratoga Club claimed to have introduced this combination, a cookbook called Sandwiches had a recipe for a "club-house sandwich", served warm with toasted, buttered bread, broiled ham or bacon, roasted chicken, a thin layer of mayonnaise, lettuce and pickles. The recipe also specified cutting it into triangles to serve.
In the 20th century, the recipe also appeared in the Good Housekeeping Everyday Cook Book, this time with a choice of chicken or turkey and tomato. The next year, this sandwich made an appearance at the World's Fair in St. Louis, where it was described as looking like a tower. By the 1970s, writings from chef and cookbook author James Beard officially cemented the club sandwich as a triple-decker combination with chicken or turkey, bacon, lettuce, tomato and mayo.
Making a Club Sandwich Today
For a satisfying lunch with a crunchy texture and salty flavors, Colony Diner has the classic club sandwich on our menu.
To make this sandwich at home, a few variations exist. While some are essentially a BLT with ham and chicken or turkey added, others bring cheese into the mix. A few tips:
Based on older iterations, you don't always need to use lunch meat. Leftover baked chicken and ham add more body and flavor.
White bread is more traditional for this recipe but a club sandwich can be made with sourdough, whole wheat or rye, lightly toasted and buttered.
Consider replacing mayonnaise with mustard or adding sliced avocado.
Especially for triple-decker varieties, be sure to hold the layers together with a sandwich pick.

Looking for a quick yet filling meal? Stop by Colony Diner for a club sandwich or another five-star special on our vast menu or place an order for pickup.