Welcome Friends!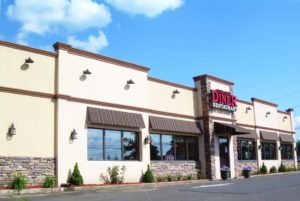 It is with great pride that I share some information on my personal life, and how Colony Diner has become what it is today.
When I was 15 years old, I got onto a plane headed to America without knowing a word of English, any formulation of a plan as to what I would do when I landed, and all the hope in the world. I left my parents and home in Turkey to live the American dream, and as I have learned, the American dream must be earned. I have navigated every part of the restaurant chain, truly starting at the very bottom and slowly but surely working my way up.
I started out as a dishwasher and busboy for 91 Diner in New Haven for two years. Shortly after, I was promoted to a position as a cook. The hours were long; the work was tough. But my time in this position laid the foundation of my dedication and commitment to culinary customer service that today, defines who I am. My first job gave me the time and experience I needed to learn English, admire American culture, and develop a passion for food.
The next step on my culinary ladder was at Pop's Family Restaurant in Milford, CT, where I worked for a proud seven years. It was at Pop's where I mastered the art of cooking, became acquainted with the idea of a family business, and learned the meaning of hospitality.
In 1999, I bought the vintage Miss Washington Diner in New Britain, CT. Owning this first diner opened my eyes to the real world of business operation. My business flourished for a wonderful five years before I decided I needed to work closer to my growing family in the heart of Wallingford, CT.
And so in 2004, I took the leap to open the thriving business that my customers and friends know today as Colony Diner & Restaurant. Colony Diner brings true meaning to family business: my wife, my children, my nieces, my brothers, and friends all happily work by my side. For six years running, Colony Diner has received 1st Place for Best Diner by the Record Journal. We have also been recognized by NBC Connecticut. My team, my family, and I are proud that Colony Diner can provide the best dining experience we know how. Colony Diner is where people go to eat great good at fair prices, receive exceptional service, and enjoy a cozy, family atmosphere.
It is where my children once ran around to play, and where they now work alongside their parents. It is how I gained acceptance and recognition within my community. It is how I give back to all of my hardworking neighbors in Wallingford who provide so many goods and services for my family and I on a daily basis.
Reflecting on my life experiences, I am whole-heartedly grateful for the opportunities that have come my way. With hard work, motivation, and commitment, anything can be possible in this beautiful country. America is my home. Wallingford is my home. And Colony Diner is my livelihood.
To those who have been by my side since the very beginning, I thank you from the bottom of my heart, and I look forward to seeing you next time.
To those who are new to Colony Diner, you can always find me around the restaurant, sometimes conversing with the customers I am happy to call my friends and sometimes cooking the very cuisine you come to enjoy. I encourage you to introduce yourself, so I can personally welcome you to my table.
Thank you,
Eric