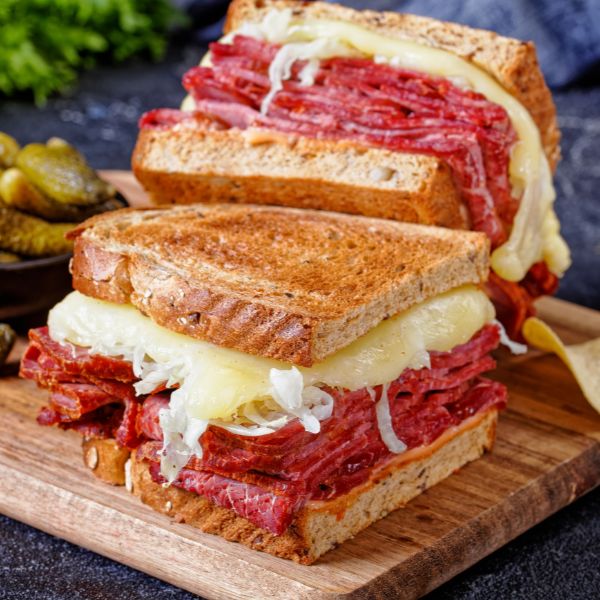 The Reuben sandwich is a diner and deli staple! It's also well-known for its distinctive flavor and combination of ingredients.
While restaurants started serving this sandwich at the beginning of the 20th century, its origins continue to be contested. Here's some background on this long-time lunch favorite.
What Is a Reuben Sandwich?
A traditional Reuben sandwich starts with two slices of rye bread. The key ingredient – thick slices of corned beef – are then topped with sauerkraut, Swiss cheese and Russian or Thousand Island dressing. The result is an irresistible mix of meaty, salty and tangy flavors with a creamy texture.
New York Origins
The prototype for the Reuben sandwich goes back to the early 20th century in a New York Jewish deli called Reuben's Restaurant and Deli. They often hosted celebrities after a night out at the theater and in 1914, actress Annette Seelos came into the deli. Owner Arnold Reuben prepared her a sandwich with ham, cheese, turkey, coleslaw and dressing.
Initially, the sandwich was called the Annette Seelos Special. Yet after a few decades, Menu Making for Professionals in Quantity Cookery, a professional cookbook authored in New York, called it the Reuben sandwich. Sliced corned beef and sauerkraut were listed instead of the lunch meats and coleslaw. It's assumed the initial spur-of-the-moment deli invention evolved into a regional staple named after its creator.
Omaha, Nebraska Origins
Less than a decade after Arnold Reuben debuted a sandwich similar to its modern-day counterpart, Bernard Schimmel created one with corned beef and sauerkraut while operating the kitchen at the Blackstone Hotel. The request came from a city store owner and casual poker player named Reuben Kulafofsky. Schimmel chose to add Swiss cheese and Thousand Island dressing on dark rye bread.
This version originated in 1925 and was quickly put on the hotel's menu by owner Charles Schimmel. The hotel started calling it the "Reuben" by 1934 and eventually offered the sandwich at its chain locations across the region.
In line with this story, a chef associated with the Blackstone hotel chain submitted the combination to a sandwich competition, where it placed first out of about 600 entries. From here, this distinction resulted in more restaurants and hotels including it on their menus.

Whether you're craving a traditional Reuben sandwich or a vegan alternative, satisfy your tastebuds at Colony Diner! Browse our full menu, then stop by the restaurant for takeout or dine-in today.