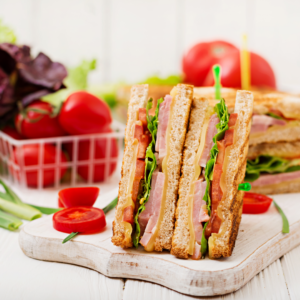 Heading to the coast this summer? Don't forget to pack a lunch! In addition to snacks like fruit and chips, sandwiches can be the perfect meal for a beach excursion.
If you're ready to put your toes in the sand and enjoy a nice lunch by the ocean, consider these ultimate summer sandwiches from Colony Diner to include on your beach trip!
Go Simple
Our Club Sandwiches are a simple, yet delicious lunch option when basking in the summer sun. Choose your favorite protein, whether it be Roast Turkey, Grilled Chicken, Roast Beef, Tuna, Ham or Steak, the top it off with lettuce, tomato, bacon and mayonnaise!
Try our Roast Turkey Club, Steak n' Cheese Club or Ham and Cheese Club.
Wrap It Up
If you're craving a sandwich but looking for a healthier bread substitute, a wrap is the way to go. At Colony Diner, we offer soft flour tortillas, whole wheat wraps and gluten-free wraps. Get creative with your wrap by adding your choice of meat, vegetables and condiments!
Try our NEW Turkey Avocado BLT Wrap, made with slow roasted turkey breast, crispy bacon, lettuce, tomato, avocado, cheddar cheese and chipotle mayo.
Five Star Specials
Get ready for a day of swimming and beach games with one of our filling Five Star Specials. These sandwiches can be loaded with all your favorites, including fried onions, pastrami, corned beef and eggplant on grilled rye bread, a hard roll, toasted sesame seed bun or Texas toast. Our Five Star Specials are perfect for a long day out in the sun to keep you satisfied and full of energy.
Try our Monte Cristo on Texas French Toast, stuffed with grilled ham, grilled turkey breast, melted swiss cheese and dusted with powdered sugar.
Vegan Options
If you abstain from all animal products or want to consume less meat and dairy, we have an extensive menu of vegan options! Our Vegan Breakfast Wrap, Impossible™ Burger or Vegan Patty Melt can satisfy your sandwich cravings.
Try our Vegan Chick'n Sandwich on a sesame bun with lettuce, tomato and vegan mayo, served with a side salad and pickle.
Don't Forget the Sides
Sandwiches are great but made even better with your favorite sides! Along with a pickle, choose a refreshing side salad, coleslaw or potato salad. Going to the beach with your family? Our Cold Salad Platters are the perfect choice to feed a large group.
Try our Tuna Salad, Chicken Salad or Egg Salad Platter served over a bed of lettuce with tomato, cucumber, potato salad, coleslaw and garnish.

Hungry for a delicious sandwich? Place your to-go order at Colony Diner today!