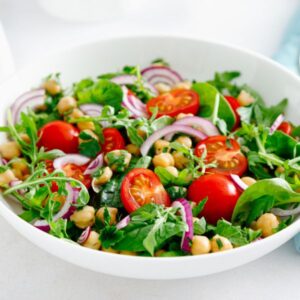 According to Medical News Today, an electrolyte imbalance can occur if your body has too much or not enough water. Electrolytes help maintain the balance between fluids in and out of our cells.
Many electrolyte deficiencies occur when trying diets that cause rapid weight and water loss. The hot summer sun can also cause an imbalance if you become too dehydrated! Rather than dealing with negative side effects, learn how to spot an electrolyte imbalance and the best ways to treat it quickly.
Low Calcium
Cramping in your lower extremities can be one of the first signs of an electrolyte imbalance, specifically concerning calcium. When our body is low on calcium, we can start to experience irritability, twitching and trouble sleeping at night.
To treat these symptoms, try adding more dairy to your diet. Calcium-rich foods like cheese, yogurt and milk can help increase the calcium in your blood and alleviate the negative side effects!
Try: Cheese Combo Scramelt with American, Swiss and Mozzarella Cheese.
Low Magnesium
Fatigue, weakness, shaking and sleepiness are all possible symptoms of low magnesium. If left untreated, this can lead to severe headaches, muscle spasms and hyperirritability. As magnesium plays a key role in our muscle function and energy production, having enough in your body is important to keep going strong throughout the day.
Eat your greens! Packed with magnesium, leafy greens can go a long way as part of your daily diet. Whether adding them to a smoothie or making a big salad, leafy greens like kale and spinach can help prevent and alleviate symptoms of an electrolyte deficiency.
Try: Classic Spinach Salad served with Fresh Baby Spinach, Sliced Mushrooms, Crisp Bacon, Red Onions, Hard Boiled Egg and your choice of Dressing.
Low Potassium
Are you craving sugar? This might be a symptom of low potassium. You may also begin to experience fatigue, cramps and nausea if you don't have enough of this mineral. Potassium is crucial for our nerves and muscles to function properly. Without it, the body will struggle to maintain normal fluid levels.
Luckily, potassium can be found in some of our favorite foods! Bananas, oranges, broccoli and potatoes are chock full of this mineral.
Try: High Protein Pancakes topped with Fresh Bananas and Strawberries.
Low Sodium
It's not all in your head! Confusion, irritability, headaches and loss of energy are all signs of low sodium. These symptoms can become more severe if not addressed, leading to seizures, muscle spasms – even a coma.
While your body needs this mineral to function, too much sodium can also be dangerous. Eggs, tomato sauce and jalapeno peppers keep your sodium levels up, without increasing blood pressure.
Try: Sliced Gyro with Two Eggs served with Home Fries and Toast.

We have the nutritious meals your body craves at Colony Diner! Visit us today to find your new favorite dish.