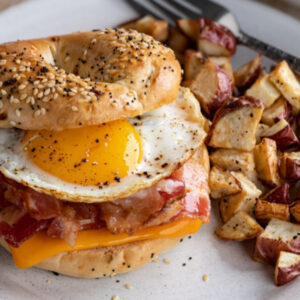 What's the most important meal of the day? That's right – breakfast! A nutritious, fulfilling meal in the morning can help replenish the glucose your body lost during sleep, while also giving you energy for the day.
However, not every breakfast staple is the best choice for your morning meal. Here's how to build the perfect breakfast at Colony Diner!
Eggs
Nothing says breakfast like delicious eggs! They are easily customizable to your specific tastes, whether you like runny or hardboiled. There are many ways to cook eggs, including scrambled, over easy, sunny side up and poached. Add your favorite cheese and spices to create a tasty bite!
Try: Two Scrambled Eggs with Mozzarella Cheese.
Sides
Many foods go well with eggs. At Colony Diner, we serve our farm fresh eggs with a side of home fries but if you're feeling indulgent, take potatoes to the next level with a side of Corned Beef Hash! Not in the mood for potatoes? Fresh fruit also goes great with any breakfast dish.
Try: Breakfast Sides of Corned Beef Hash, Ham Steak, Avocado or Jalapeños.
Carbs
It's time to choose your favorite carb! For toast, we have white, rye, multigrain and pumpernickel bread that can be spread with jam or butter. If you want to get more creative, pair your eggs with an everything or cinnamon raisin bagel. Sweet tooth? Order a freshly baked chocolate chip or blueberry muffin!
Try: Fried Eggs and American Cheese on an Everything Bagel.
Meat
Don't forget your favorite meat! While the most popular options are bacon and sausage, we also have kielbasa, turkey bacon, ham and rib-eye steak at Colony Diner. Whether you add meat to an egg sandwich or enjoy it on the side, meat can be a great source of protein.
Try: A side of Vermont Tie Sausage and Polish Kielbasa.
Drink
You'll definitely get thirsty while enjoying all this delicious food! Popular juices to drink with breakfast include orange, apple, tomato, pineapple, grapefruit and cranberry! If you're not looking for something sweet, consider coffee, tea or a refreshing glass of milk.
Try: Bottomless Coffee, Green or Herbal Tea.

Ready to build your perfect breakfast? Visit Colony Diner today!