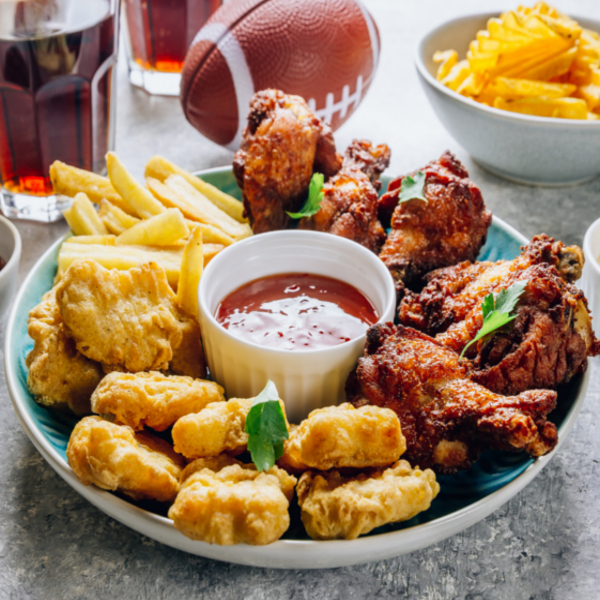 Fall is here and that means football season is in full swing. Every Sunday, many households spend the day watching games with family, friends and, of course – eating food!
Looking for a crowd pleaser? Colony Diner and Restaurant has the snacks and apps to make every fan happy on game day.
Cold Salad Platters
Kick-off is 1:00 pm on Sunday – the perfect time for a salad! Feed a group with your choice between Tuna Salad, Chicken Salad or an Egg Salad platter.
Served over a bed of lettuce with tomato and cucumber, your cold salad platter also comes with sides of potato salad and coleslaw!
Nachos
Sometimes you're hungry for more than just salad – why not order some nachos too? This cheesy delight makes snacking while rooting for your favorite team easy – it's the ultimate football finger food.
Enjoy crispy tortilla chips loaded with melted cheddar, black beans, diced tomato, olives & jalapenos served with sour cream & salsa. Need more? Add beef chili or diced chicken to make your nachos "Supreme"!
Buffalo Wings
No football game day is complete without an order of Buffalo Wings. On a fall Sunday, there's nothing better than fried chicken tossed in delicious buffalo sauce – embrace the mess! If you prefer, we also offer Boneless Buffalo Chicken Tenders.
Our wings, served with celery sticks & bleu cheese, pair well with a side of fries. Choose from traditional or waffle fries, available with buffalo sauce or Cajun seasoning if you want to add to the tasty heat of our wing sauce!
Combo Platter
Can't decide what to eat? No worries! Our Classic Colony Combo gives you a taste of everything. Share a platter of chicken fingers, stuffed potato skins, mozzarella sticks and onion rings. Ask for our awesome dipping sauces to add even more flavor to this appetizer.
Vegan Options
No meat? No problem! Our Vegan Buffalo Chick'n Tenders are the perfect wing substitute. You can also try our Vegan Nachos: Crispy tortilla chips loaded with vegan cheddar, black beans, diced tomatoes, black olives and jalapenos, served with dairy-free sour cream and salsa. To upgrade the meal even further, feel free to add Impossible Meat!

We have something for everyone at Colony Diner. Give us a call to place your to-go order for football Sunday!