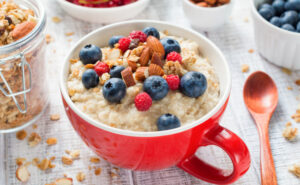 It's commonly said that breakfast is the most important meal of the day. Breakfast starts your day and gives your body what it needs to be productive and strong.
Your morning cup of coffee isn't enough to stay energized! Here are some of the great benefits of eating breakfast and some tasty options we offer at Colony Diner.
1. Replenishes Your Body
Ever wonder why it's called breakfast? Your first meal of the day is "breaking fast" after sleeping. What you eat in the morning will replenish the nutrients in your body that were lost overnight.
Healthy breakfast foods typically contain important nutrients like calcium, iron and fiber which are key to maintaining a healthy diet.
Try Our Well Balanced Omelette: Egg White Omelette with Turkey Bacon, Diced Tomatoes, Fresh Sliced Mushrooms & Fresh Steamed Spinach
2. Boosts Your Energy
While coffee or caffeinated tea can provide a quick burst of energy, these beverages are not enough to sustain your body for the whole day, especially with long shifts at work or school ahead of you. Eating breakfast can restore your glucose levels, which is crucial when producing energy.
Glucose is a simple sugar found in many carbohydrates. Once it enters your bloodstream, glucose raises your blood sugar levels. According to Better Health Channel, restoring your energy in the morning helps keep your metabolism up for the rest of the day.
Try Our Energy Wrap: Scrambled Eggs, Avocado, Tomato, Onion & Cheddar Cheese, served with Home Fries
3. Better For Your Health
A habit of skipping breakfast can lead to an increased risk of health complications in the future. Healthy eating is important and a well-balanced breakfast could start your day in the right direction.
By consuming healthy foods in the morning, you will be less hungry throughout the rest of the day. Studies show that people who eat breakfast tend to have healthier diets overall!
Try Our Avocado Toast: Fresh Avocado & Sliced Tomato on Open Faced Multi-Grain Toast
Suggested Foods for Breakfast
These foods are filled with the nutrients and flavor needed for a perfect breakfast meal:
Nuts
Vegetables
Greek Yogurt
We offer delicious, healthy breakfast foods and more at Colony Diner. Don't skip your day's most important meal – visit us today!