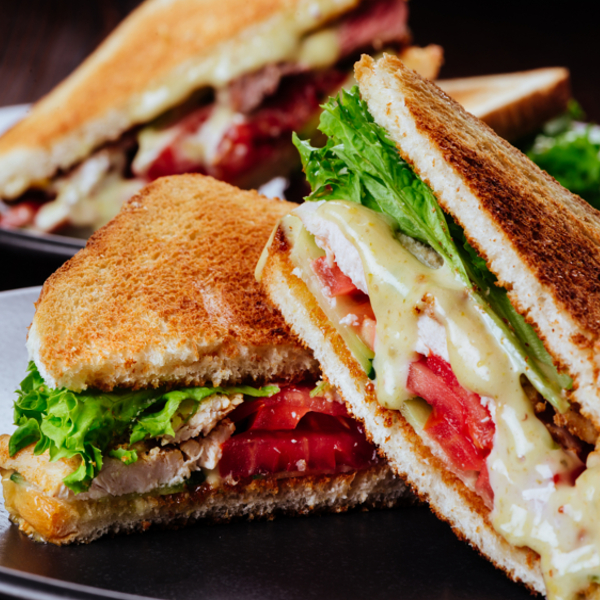 The fall season is officially here! That means the weather is getting cooler, leaves are changing colors and we're starting to crave our favorite autumn tastes.
Whether it's pumpkin, apple or sweet potato, Colony Diner has something to satisfy the fall flavors you desire!
Seasonal Pancakes
Before a long afternoon at the orchard, try our special Apple Pancakes for breakfast. Enjoy three buttermilk pancakes topped with apple compote, sprinkled with cinnamon and powdered sugar. This warm breakfast just might be your new favorite comfort food!
If you're craving pumpkin, don't miss your chance – we only offer our Pumpkin Pancakes in-season!
Turkey & Avocado BLT Panini
With November getting closer, thoughts of turkey might be entering your head. No worries, we have you covered! Enjoy our Turkey & Avocado BLT Panini with crisp bacon, lettuce, tomato, avocado, cheddar cheese and chipotle mayo.
Stay cozy on a cool day by adding a cup of soup or the delightful taste of sweet potato fries.
Roast Turkey Entrée
Can't wait for Thanksgiving dinner? Our Roast Turkey can satisfy your favorite holiday flavors any time of year. Our oven roasted turkey is sliced over traditional herb stuffing and topped with homemade gravy. Don't forget the cranberry sauce!
Enjoy your favorite potato as a side, whether that's mashed, baked or sweet.
Desserts Galore!
We are not short on classic fall desserts here at Colony Diner. Our Pumpkin Pie is only here for the season, so get a slice while it lasts!
You can also enjoy a slice of our Apple Pie with a scoop of vanilla ice cream, paired with bottomless tea or coffee.
Don't forget the kids! Cooler weather means hot chocolate is a must. For an extra special treat, splurge with an order our Fried Oreos, which are sure to remind you of fair season.

Hungry for fall-themed food? Visit us in Wallingford to enjoy all of your seasonal favorites and more!