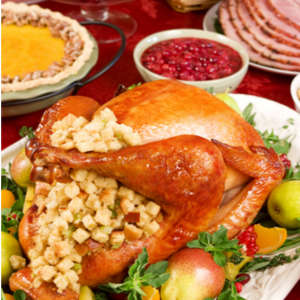 So, you're the host for Thanksgiving dinner this year. If thinking about all the work involved makes you feel faint, there is no need to stress! We serve plenty of hungry customers every day and know some of the best tricks to do it all worry-free.
We offer 5 tips for a relaxing Thanksgiving Day. 
Thaw Your Frozen Turkey
If you've purchased a large bird for Thanksgiving dinner that will be sitting in your freezer leading up to the big day, do not wait to thaw it! Many people choose to thaw their turkeys the night before on the countertop; however, this is not a safe choice.
After about two hours at room temperature, bacteria will begin to build on your turkey. Instead, allow enough time for your bird to thaw in the refrigerator – this could be several days depending on how big it is.
Prepare Sides Ahead of Time
Cook whatever you can ahead of time! Thanksgiving Day will be much less stressful if all you have to do is warm up food and serve it. To be sure your side dishes keep their savory flavor and do not dry out in storage, seal containers tight and – like your frozen turkey – allow enough thawing time.
Cooking elements of the main course ahead also gives you more time to focus on other aspects of this special day. Consider trying DIY craft projects for unique centerpieces and other festive decorations for your home.
Do Not Leave the Kitchen
Make sure the kitchen is never left unattended when there is food cooking on the stove or in the oven. Did you know there are two times the average number of house fires on Thanksgiving than on a typical day? To avoid disaster striking your family this holiday, make sure someone is always at the cooking stations.
On another note, if you plan to deep fry your turkey, please do so with extra caution. Although delicious, this way of cooking can also lead to a fire or appliance explosion.
Avoid Straying from Tradition
Many of us are excited to try new recipes, especially those who like to cook. However, Thanksgiving may not be the best time to do so. On this holiday, your guests will expect the traditional foods: Turkey, stuffing, mashed potatoes and pumpkin pie.
If you want to test out an innovative side dish in addition to the time-honored meal essentials, go ahead – but sacrificing a classic favorite could end in a family argument.
Ask for Help from Guests
While some hosts prefer to have the kitchen to themselves, it's okay to ask for help when you are accommodating everyone on Thanksgiving. Whether you ask everyone to bring something – an appetizer or bottle of wine – or accept help setting the table, lessening the burden on yourself is the first step to stress relief. Your guests want you to enjoy too!

Let Colony Diner & Restaurant help make your Thanksgiving feast less stressful; we'll provide the desserts! Contact us today to place an order for homemade goodies like fresh fruit pies and decadent cakes.