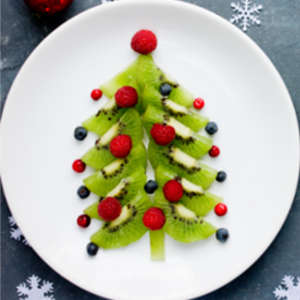 The holiday season is here, which means plenty of celebratory eating through the New Year. Different studies show that the average person can gain anywhere between one and ten pounds during the holidays – and many fail to lose it.
At Colony Diner, we love food but also understand the importance of proper nutrition. When we teach our children how to eat well early, they are more likely to adopt healthier habits. We have 4 tips to promote healthy holiday eating for families this year.
Make Food Festive
How many times do you have to ask your kids to eat their vegetables? You likely sound like a broken record. Sometimes, even your spouse won't eat brussels sprouts! Yet, vegetables have irreplaceable nutritional value in our diet. Around the holidays, make healthy foods more enticing with a festive display. For instance, a fruit and vegetable Christmas tree! Have the kids help you organize the items on a platter to resemble the shape of a pine tree.
Find Healthy Substitutes
There is no denying that themed desserts are a holiday tradition. From Santa shaped cookies to red velvet cupcakes with green frosting, many people look forward to dessert as a DIY project. While you do not want to deprive your family, they should not go overboard on sweets either. This year, sneak healthy alternatives into your favorite holiday recipes to add more nutritional value. For example, applesauce instead of white sugar and black beans in place of white flour – your family will hardly know the difference!
Practice Portion Control
When a small snack turns into eating a whole bag of chips, there is a problem with portion control. Many people would be surprised to know how small an individual serving size actually is! Americans tend to overindulge during the holidays, eating three or four times the average portion. As a family, start savoring your meals more. Eat one course at a time to learn when your stomach truly feels satisfied. Oftentimes, we eat too fast to realize we're full; according to the CDC, it takes our brains about 20 minutes to process this feeling.
Get Moving
One way to make up for eating more than usual this time of year is to stay physically active. While the holiday meal is cooking, organize a family football game. After dinner, take a walk around the neighborhood. Physical activity aids digestion better than vegging out on the couch after a large meal.

This year, promote a healthy and happy family holiday by eating in moderation. Balance your indulgences with the nutrients your body needs to thrive. Visit Colony Diner & Restaurant to explore more healthy choices today!