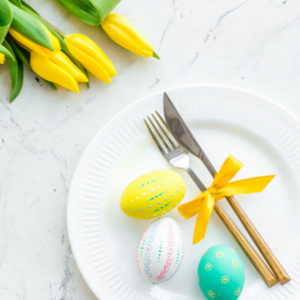 Now that spring has arrived, everyone is excited about warmer weather and more daylight. After a long winter, we always look forward to welcoming a new season. Plus, Easter is right around the corner! Whether you are a first-time or annual host, there can be a lot of pressure to have the perfect gathering. These tips will help you host an ideal day for family and friends.
Be a Good Host
One of the most important jobs of the host is to make guests feel welcome. When the doorbell rings, your guests should not be expected to let themselves inside. Everyone should be greeted at the door with an offer of a beverage.
If you're putting on the finishing touches when guests start to arrive, have appetizers out for everyone to help themselves to.
How to Decorate
On Easter, you can't go wrong with pastels. Your dinner table should be adorned with the colors of spring, such as light pink, bright green and pale yellow. Cute accents like mini Easter eggs and porcelain bunny statues add charming style to your spring color palette.
What to Serve
The classic main dishes on Easter Sunday are ham and lamb, but that doesn't mean you can't get creative with the rest of the meal!
Appetizers
Put a twist on Easter favorites and fresh spring produce:
Deviled Eggs – use pastel dyed eggs and top with mini shrimp!
Bacon wrapped asparagus – make this spring vegetable more indulgent
Split pea hummus – add a touch of spring to this crowd-pleasing appetizer
Side Dishes
What should you eat alongside the main course?
Honey glazed carrots – celebrate the sweet flavors of spring
Scalloped potatoes – cheesy starch tastes great with ham!
Twice baked sweet potatoes – have a lighter option available
Desserts
Stick to tradition or go outside the box, but have a basic option for the kids:
Easter pie – ricotta-orange filling inside a phyllo dough shell
Carrot cake – make your own cream cheese frosting!
Bunny cake – decorate your favorite cake flavor with coconut topping, jelly bean eyes and a marshmallow nose with licorice whiskers!

Are you hosting this major holiday? Relieve some of your stress and let Colony Diner do the cooking! We have everything from appetizers to dessert, including vegan and gluten-free options. View our menus today!