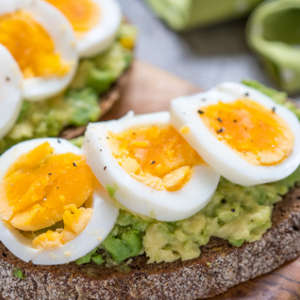 We've all heard the saying that breakfast is the most important meal of the day. The athletes we look up to as role models always have a "breakfast of champions" before a big game. While breakfast is the first meal we eat after a night's sleep, what's on the plate matters most.
We explore the ins and outs of this common belief.
Fuel For Our Bodies
Think back on the events of your life. When you were in school, would you be told to eat breakfast before a test? Prior to an early morning work presentation, do you make sure your stomach is full? Our bodies cannot function to maximum potential without the proper fuel.
Food is an essential fuel for the body. During sleep, we're basically fasting. By morning, we need an energy boost to get moving again. After these long periods of rest, food helps regulate our bodies and gives us the energy we need to perform.
Eating breakfast kickstarts the metabolism and sets the tone for the rest of your day. Those who skip breakfast – about 25 percent of Americans – may be more irritable or feel sluggish until lunchtime comes.
It's All Relative
As mentioned, breakfast sets the stage for the hours ahead. Eating whole grains, fruits, vegetables and protein energizes the body and mind, improves concentration and mood, and can help with weight management. On the other, what if your day is not started with a balanced meal, but an innutritious breakfast?
A bad choice from the beginning often makes it more difficult to eat well throughout the day. A sugary donut may give way to other unhealthy choices for lunch and dinner. Although you've eaten breakfast, you may find yourself crashing in the early afternoon from a lack of proper nutrition in your daily diet.
Making the Most of Breakfast
Studies have shown that people who make breakfast their largest meal of the day tend to have a lower body mass index than those who focus on lunch or dinner. You are more likely to reduce overall calorie intake when your day is started with a well-balanced and nutritious breakfast. Further research shows there could be a link between skipping breakfast and obesity.
Beyond making sure you eat breakfast, what else can you do to kick off your day in the right direction?
Establish a Routine: Create your schedule around your meals. Those who eat at erratic times are more likely to make poor decisions and could be intaking calories at the wrong time of day. A structured meal schedule reduces the chances of overeating at night.
Meal Prep: Make it even easier to follow an eating schedule by prepping for the week ahead. Whether you hard boil eggs in bulk, prepare serving sizes of fruit or make overnight oats, grab and go doesn't have to lack nutritional content.
Know Your Food: Common breakfast choices, like cereal and yogurt, can be high in sugar. Eggs are a great source of protein and other nutrients, plus you can make them a variety of ways! Paired with antioxidant-rich fruits, heart-healthy nuts or fibrous oatmeal, you'll feel full and energized.
So what's the bottom line? Breakfast is as important as you make it. How you start your day helps set the stage for lunch, dinner and snacks in between. Those who lead a healthy, active lifestyle tend to eat a nutritious breakfast, although others may be able to maintain wellness without it. Every body is different!

At Colony Diner, we love breakfast and have a huge menu of options – including gluten-free and vegan items – served all day. To taste our delicious food for yourself, visit our Wallingford restaurant today.