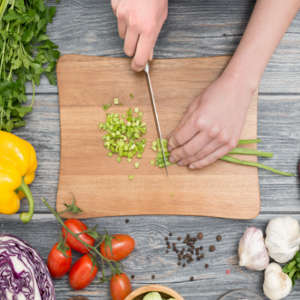 We understand the importance of having a diverse menu to accommodate dietary needs. Recently, we updated our menus to include gluten-free and vegan options. Veganism is a strictly plant-based lifestyle that abstains from any cruelty to animals. Although only three percent of Americans identify as vegan, there are many benefits.
Why should you consider veganism?
Weight Loss
A vegan diet requires you to put more thought into your meal choices. Whether you are grocery shopping or eating out at a restaurant, the food you consume cannot contain any animal products.
Fruits, vegetables and legumes are go-to choices. These foods are packed with nutrients – including vitamins, minerals and fiber – which can make you feel fuller. According to a study in the Journal of General Medicine, you are at lower risk for weight gain when you follow a plant-based diet.
More Energy
When your diet is high in sugar and processed foods, you may feel lethargic. Vegans are often energized, which can be partially attributed to their diet. The human body thrives on fruits and vegetables, healthy fats and nutrients, as opposed to the unhealthy alternatives.
Disease Prevention
A vegan lifestyle can protect you from developing a variety of diseases, including:
Type 2 Diabetes
Heart Disease
Certain Cancers
When you eat less sugar and more legumes, overall health improves. Specifically, the National Center for Biotechnology Information (NCBI) recently reported that vegans may have a 15 percent lower risk of cancer.
Bone Health
While there is no scientific evidence to confirm that vegans have stronger bones, they may not lose bone mineral density as rapidly as meat eaters. According to a Swiss study, eating low-acid fruits and vegetables can decrease the breakdown of bones.
Before making any dietary changes, ask a doctor if veganism is a safe lifestyle choice for you. Eliminating meat and other animal products from your diet can reduce the intake of certain nutrients. You can also work with a nutritionist to make sure all health needs are met.

We want to be the best vegan restaurant in Wallingford. Visit Colony Diner for 100 percent vegan breakfast, lunch or dinner today. We look forward to serving you!