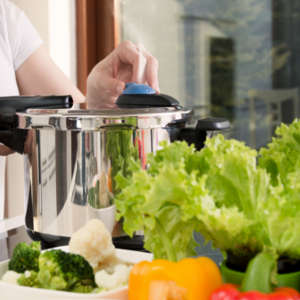 Many people love the "set it and forget it" functionality of crock pots. When you come home, dinner is ready to be served. But what do you know about electric pressure cookers? With the instant pot, cooking time is reduced up to 70 percent compared to other methods.
Traditional pressure cookers are often viewed as "dangerous" appliances, but electric pressure cooker sales have nearly tripled in the past four years! The popularity of these instant pots stems from versatility – they are a 7-in-1 pressure cooker, slow cooker, rice cooker, sauté, steamer, yogurt maker and food warmer. Electric pressure cookers also have an abundance of safety features.
What are the other benefits of using an instant pot over alternative cooking methods?
Nutrients Are Preserved
Unfortunately, many vitamins and nutrients are lost when foods are cooked in excess water. For instance, steaming vegetables can dissolve some of the nutritional value and strip away color. In a pressure cooker, steam is sealed inside the pot and the food is not exposed to air.
More Even Cooking
Electric pressure cookers are designed to distribute heat evenly. Once the instant pot is sealed, heat is quickly released, and every component of your dish gets thoroughly cooked. They also kill harmful bacteria that boiling and other cooking methods do not.
Energy Efficiency
Did you know that using an instant pot electric pressure cooker can save up to 70 percent more energy than oven and slow cooking, boiling and steaming? Not only do you save time cooking with this appliance, but you may also save on your electricity bill!
Recipes for the Instant Pot
If you've been convinced to invest in an electric pressure cooker, we recommend the following foods to get you started!
Easy-to-peel hard boiled eggs (4 – 5 minutes)
Risotto (12 minutes)
Baked potatoes (15 minutes)
Whole roasted chicken (6 minutes per pound)
Broth (about 2 hours)
You can also make stock, pulled pork, yogurt, desserts and so much more with an instant pot – in little versus other cooking methods.
Although instant pot is the latest trend to make mealtime quick and easy, there is nothing like a homecooked meal – prepared by someone else! Treat yourself at the Colony Diner & Restaurant today.