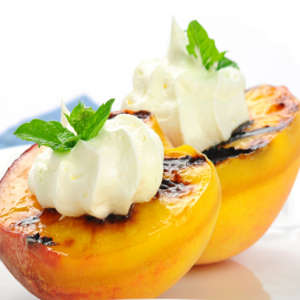 Warmer weather is on its way and that means it's time to bring out the grill for backyard barbeques! In New England, springtime is a breath of fresh air after a chilly winter season. With it also comes some delicious seasonal fruits and vegetables we cannot wait to cook.
If you are hesitant to grill fruits and vegetables, it's easy to become a spring grill master!
Why Grill Fruits & Vegetables?
In short, grilling enhances flavor. When it comes to fruits and vegetables, the natural sweetness is drawn out during the cooking process. Grilling also helps fruits and vegetables maintain their texture, so your nutritious sides do not become mush on the plate.
Spring Vegetables to Grill
Crunchy vegetables tend to hold up best on the grill. Our spring favorites include:
Artichokes
Radishes
Morel mushrooms
Simply brush them with olive oil and let the grill do the work. We do not recommend peeling vegetables before they go on the grill; this takes away some nutrients and can cause drying out. Grilling baskets can help keep the vegetables from falling through the cracks.
Spring Fruits to Grill
Firm, just ripened fruits are the best ones to throw on the grill. In spring, we like to cook:
Mango
Pineapple
Honeydew melon
Apricots
Unlike vegetables, fruits should be peeled before going on the grill. Melted butter, sugar, honey or lemon juice can be added to bring the flavor up a notch. Keep fruit on a cooler section of the grill and be sure to rotate, so it does not cook too quickly on the outside.

Keep the dinner table fresh this spring by trying new grilled creations! When you need a break from playing chef, bring the family to our Wallingford restaurant for a delicious meal.