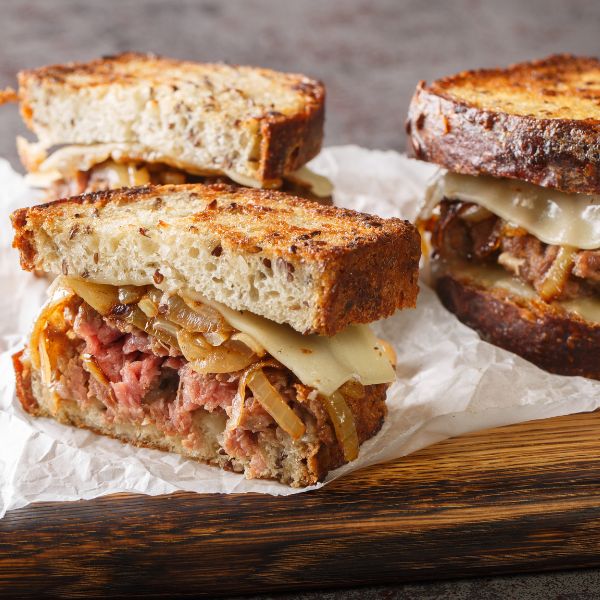 Patty melts have been a diner staple for decades. At Colony Diner, we have this grilled cheese-cheeseburger hybrid on our menu! Many people order it for nostalgia and familiarity, while savoring the combination of meat, cheese and caramelized onions.
While some consider the patty melt its own sandwich and others think of it as a cheeseburger variation, learn about what makes this sandwich distinct and why it still remains on diner menus across the U.S.
What Makes a Patty Melt?
Diner customers often order the patty melt for its meaty, crispy and melty combination. Each sandwich starts with a beef patty formed by hand and seasoned. From here, it's layered with cheese – Swiss is preferred – and the tangy sweetness of caramelized onions. Some people go in the direction of a Reuben sandwich by including Thousand Island dressing in the mix.
Once built, the sandwich is cooked on a grill or griddle like grilled cheese, resulting in a crispy exterior and melty interior. Lettuce and tomato may be served on the side.
Origins of the Patty Melt
If you're of a certain age, you might recall getting patty melts at diners and drive-in restaurants on road trips or locally starting in the mid-20th century. It's said that Tiny Naylor, owner of Biff's Drive-Ins and Tiny Naylor Coffee Shop restaurants in California, came up with the concept at the end of the 1940s. Its design is also assumed to have given way to the equally ubiquitous tuna melt, another diner staple.
The patty melt was first added to the menu at Tiny Naylor Coffee Shop as a beef patty between two slices of rye bread. To help spread the word, his son Biff Naylor – now owner of the Du-Par's chain on the West Coast – added it to the menus across his family's restaurants.
How to Make a Patty Melt
Unlike all the toppings available for hamburgers and cheeseburgers, minimal deviation from the standard patty melt is what makes it so recognizable. You know what to expect, no matter where you have one!
The baseline construction for this sandwich includes:
Sliced Bread: Today's recipes start with the body and tang of rye or sourdough bread, or add some crispiness with Texas toast. Hamburger rolls are too fluffy, thick and not optimal for flipping on a griddle.
Preparation: Patty melts aren't typically made on the fly. You're advised to caramelize the onions a day in advance for preparation and add some moisture to the bread. Some recommend spreading mayonnaise, butter or both onto the sliced bread.
Ground Beef: To form your own patty, start with 80/20 ground beef and season it with salt, pepper and Worcestershire sauce before shaping and cooking it on the grill. You'll want to have it browned on both sides before you start assembling your sandwich.
Cheese: Choose a cheese that's melty and delivers flavor. Swiss is the standard, although American or fontina may be used.
Sauce: To expand the flavor profile and enhance the creaminess of your sandwich, you can add Thousand Island, Russian dressing or even horseradish.
Assembly and Cooking: With the bread buttered and all components spread out, put the sandwich together – patty, cheese, onions and dressing – before cooking it on a griddle until both sides are browned, the meat thoroughly cooked and the cheese melting.

Craving a patty melt? Colony Diner has the classic sandwich with cheese and fried onions on rye bread, as well as a vegan option with an Impossible™ plant based patty, grilled onions and vegan cheese! Browse our menu today.