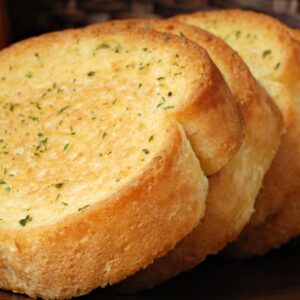 You'll see Texas toast on breakfast and lunch menus around the country – including at Colony Diner! The thicker shape is perfect for French toast, to build sandwiches or grilled with butter on the side of soup.
Learn what makes Texas toast different from ordinary sliced bread.
What Is Texas Toast?
The distinctive characteristics of Texas toast come from its preparation. The bread is sliced about 3/4-inch to one-inch thick, which is twice the thickness of standard sliced white bread. Both sides are buttered before it's placed on the grill or in a skillet to slightly brown. This combination results in a crunchy, toasted exterior that makes a perfect breakfast side.
Unlike other breads that toast all the way through, Texas toast tends to have a soft and slightly moist interior. This can elevate the sandwich experience, taking the classic toasted club or burger to the next level. The thickness also absorbs milk and eggs easier, making it perfect for stuffed French toast.
Texas toast can act as a more substantial yet softer substitute for garlic bread too. You'll spot it in the freezer section and restaurants topped with garlic and cheese.
Where Texas Toast Originated
Today, this style of toast is a staple on the menu at Cain's fast food restaurant. Yet its origins go back to another chain from the 1940s. Called the Pig Stand, this simple drive-in-style restaurant offered pork sandwiches, burgers and chicken fried steak.
One Pig Stand location in Beaumont, Texas supposedly ordered thicker white bread in an effort to "wow" customers. However, the result was too large to fit in the restaurant's toasters. Instead of throwing it away, Royce Hailey decided to butter and grill the bread on both sides to serve. Meanwhile, a Pig Stand in Denton claimed to have started serving thicker bread before the Beaumont location.
In either case, the buttered and grilled bread grabbed the attention of customers. It became a menu highlight and caught on with restaurants across the state, from breakfast to barbecue.
Serving Texas Toast
Ultimately, Texas toast can be served in place of many other breads – an alternative to thick, egg-flavored challah, a softer substitute for garlic bread or a crunchier way to hold a sandwich together.
This well-known bread can round out:
Meals with gravy, acting as a vessel to sop up the thick, salty liquid. This can range from biscuits and eggs to chicken with pan gravy.
Saucy pasta dishes. Bake your Texas toast with butter and garlic, served alongside spaghetti, ravioli or baked manicotti.
How you make sandwiches. Go drive-in style by serving fried chicken, condiments, lettuce and tomato in between Texas toast.
Eggs for breakfast, offering more body to dip and soak up egg yolks.
French toast, offering a softer interior that quickly soaks in the batter and grills evenly.
Find Texas toast on the Colony Diner menu, including for French toast, with omelettes or eggs cooked your way and various sandwiches. To explore all that we have to offer, stop by to dine-in or order takeout.