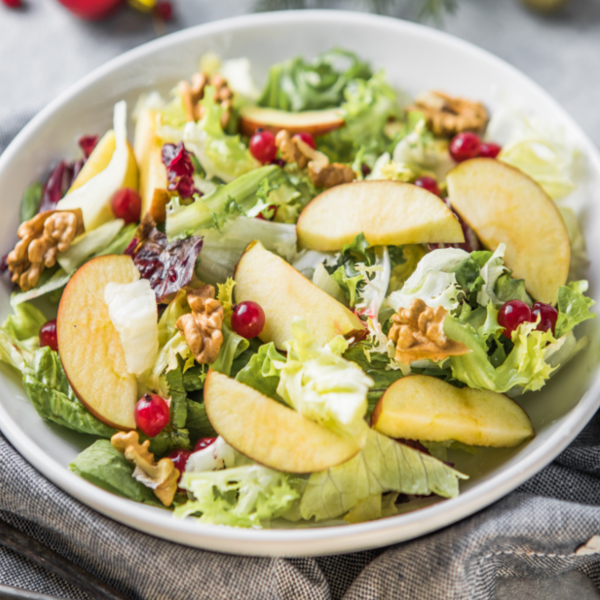 Our bodies need plenty of fruits and vegetables to stay strong and healthy. The Dietary Guidelines for Americans recommend 2.5 cups of vegetables and two cups of fruit per day. Salads provide both, in addition to many other vitamins and minerals we need to thrive.
A tasty salad makes the perfect meal any time of day for its flexibility! Whether it's a small house salad on the side of your meal or a big bowl of your favorite ingredients for dinner, this dish can be customized to suit your taste buds. Here's how to create the perfect salad for you.
Base
Before adding your desired salad toppers, you will need a base of greens. Popular choices include romaine, iceberg lettuce, spinach and kale. Leafy greens contain potassium and fiber, which work to lower your risk of heart disease and stroke.
Try our Classic Spinach Salad or Caesar Salad. If you want to get more creative with your salad base, try our Taco Salad served on a Taco Shell!
Crunch
The crunch you get from your first bite of a salad is satisfying, but where does it come from? Depending on what you're craving, there are several options to add to your base layer. For a sweeter taste, chop up some apples or sprinkle dried cranberries over your salad.
If you prefer a vegetable, add carrots, cucumbers, peppers – or all three! You can also go traditional with the classic crunch of croutons.
Try our Tropical Salad with fresh fruit, cottage cheese, Jell-O and crisp lettuce or Erik's Special Vegan Salad.
Protein
To help your body store and produce energy, you will need to add some protein to your salad. Consider steak, grilled chicken, hard boiled eggs or tuna fish. If you don't eat meat or animal products, don't worry! You can get protein from beans, tofu, quinoa or nuts.
Try our Balsamic Grilled Chicken Salad or Crispy Chicken Salad, both with our House Salad as the base.
Something Special
Arguably the best part of putting together a salad, this is how you can really satisfy your cravings. Bacon and cheese are great options for the top of your salad that add awesome flavor. If you have a sweet tooth, add watermelon, strawberries or dried fruit.
Try our Strawberry Salad or Chef's Salad, both with our House Salad as the base.
Dressing
The last – and often most difficult – step is choosing your salad dressing. We have a variety of options at Colony Diner, so you can find the one that will work best for your salad.
We offer House, French, Russian, Caesar, Bleu Cheese, Ranch, Parmesan Peppercorn, Balsamic Vinaigrette, Honey Mustard, Olive Oil & Vinegar and Creamy Italian.

Hungry for a gourmet salad? View our menu or create your own with our salad additions at Colony Diner!