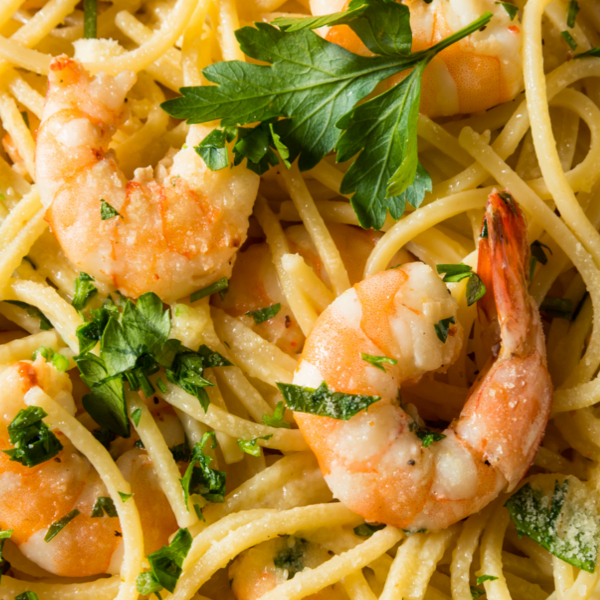 If you have regular stomach issues or trouble sleeping, it's time to focus on your gut health! According to Medical News Today, prebiotics support the body in building and maintaining a healthy colony of bacteria and microorganisms.
This helps overall gut health and digestion! Include the following prebiotic foods in your daily diet to help relieve the uncomfortable symptoms of poor gut health.
1. Garlic
This versatile herb is often used to add delicious flavor to meats, vegetables and bread. In addition to its anti-inflammatory properties, garlic can help promote good bacteria in your gut while keeping harmful bacteria away!
We love to include garlic in some of our favorite dishes, like Shrimp Scampi sautéed in a garlic butter.
2. Onions
This vegetable is popular for its ability to establish a sweet and savory flavor to so many dishes. Different types of onions vary slightly in flavor. For example, red onions are typically eaten raw in salads while white onions are more enjoyable cooked. Due to being rich in inulin, onions can help improve your digestion and good gut bacteria.
You can eat this prebiotic food for breakfast, lunch and dinner! At Colony Diner, add onions to your omelette, sandwich, quesadilla, wrap, salad or burger.
3. Apples
Apples are high in Vitamin C, antioxidants and pectin fiber, which helps decrease bad gut bacteria. It's important to eat the flesh of the apple too for its many beneficial nutrients. Order our Apple Pancakes or a side of Applesauce with your favorite Colony Diner meal!
4. Bananas
Bananas are also high in fiber, vitamins and inulin which promote good bacteria to grow in your gut. This tasty fruit can be enjoyed in a smoothie or on top of pancakes. Our Strawberry, Banana & Chocolate Chip Waffle is a great way to enjoy this prebiotic food.
5. Oats
Whole oats are packed with prebiotic fiber, vitamins and minerals like manganese, folate and Vitamin B. As a soluble fiber, consuming oats can help grow good microbes in the gut. Try our Bowl of Hot Oatmeal, available on our regular and vegan menu, with fruit and nuts.

You can find these prebiotic foods and more at Colony Diner. Visit us in Wallingford today!