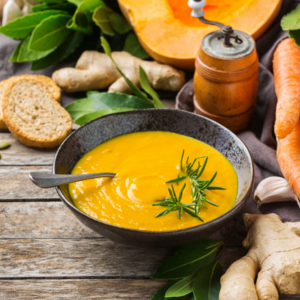 When autumn arrives, the cool air and fallen leaves make us crave cozy homecooked meals. After a summer of clean eating, you may be tempted to indulge in your favorite comfort foods, but healthy eating can be fun, filling and delicious!
There's an abundance of seasonal vegetables that can be transformed into scrumptious meals for weeknight meals. What are some of our favorites to try this fall?
Grain Bowls
Barley, quinoa, farro, bulgur, wild rice and other whole grains are rich in protein, fiber, antioxidants and other nutrients that have been shown to reduce the risk of common health concerns. A few seasonal meal ideas with whole grains include:
Farro with roasted butternut squash, mushrooms and Brussels sprouts
Butternut squash boats filled with black beans, corn, tomatoes and herbs
Chicken, long grain rice, sweet potato, Brussels sprouts and dried cranberries
Light Pasta Dishes
In moderation, pasta can be part of a healthy diet. It's the sauces and toppings that can add calories and fat. Alfredo is a favorite among pasta lovers; how can you lighten it up for fall?
Lightened-up alfredo sauce with low sodium chicken broth, 1% milk and plain Greek yogurt
Seasonal alfredo sauce with pumpkin puree, instead of heavy cream
Healthy Soups
Soups are easy to make, versatile and store well for future meals. When the temperatures start to drop and the nights are cold enough for frost, stay warm with these soup recipes:
Chicken chili with white beans, green chiles, corn and herbs
Stuffed pepper soup with ground turkey, quinoa, chopped peppers and onions
Vegan Choices
A vegan diet focuses on fruits, vegetables and legumes. Vitamins, minerals and fiber help you feel full in the absence of meat, can help with weight loss and lower disease risk. What are some go-to vegan meal ideas for the autumn season?
Coconut chickpea curry
Stuffed mushrooms
Cauliflower tacos
Carrot ginger soup
Pumpkin burgers
Tofu goulash
When you're not in the mood to cook, bring the family to Colony Diner. We use fresh seasonal ingredients to make delicious meals for all tastes and preferences. Visit our Wallingford restaurant today!