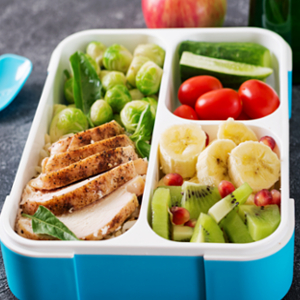 During the summer months, schedules are often less structured. School is out and parents take time off work for vacation and other fun activities, so more meals are eaten on-the-go. When back to school season arrives, it can be difficult to transition back into a routine.
Between getting everyone ready for the bus, after school activities, homework and putting dinner on the table, the following tips can make sure kids always have healthy options.
Plan Together
On the weekend, create a meal plan for the upcoming weeknights with input from the kids! You'll have much less fuss at mealtime if the kids have something to look forward to. Planning also gives you time to prep and freeze meals for a quick turnaround on busy nights.
Because most kids would choose macaroni and cheese or chicken nuggets for dinner every night, maintain some control over the meal's nutritional value by providing choices: Grilled or baked chicken? Sweet potato or brown rice?
You can take the same approach with lunch, giving the kids already prepared options to choose from: Pick one protein, one fruit, one veggie, one grain and one treat from pre-portioned baggies! What kind of selections should be available?
Nitrate-free deli meat
Hard boiled eggs
Yogurt
Whole wheat bread
Whole wheat pasta
Brown rice
Bananas
Oranges
Berries
Carrots
Celery
Bell peppers strips
Cucumber slices
Popcorn
Dark chocolate
Pretzels
Chop, Chop
Kids may have little time to eat before heading off to sports or music practice after school. Pre-cut fruits and veggies are a convenient, go-to snack that's healthy and delicious! Every Sunday, fill several food containers to make sure everyone has enough snacks for the week.
Make It Fun
Ditch the standard brown bag for a colorful container! Not only are they sealed for freshness but make it easy to create balanced meals with their portioned sections.
It's simpler than you may think to upgrade the typical school lunch of a sandwich and chips. One of the most fun and versatile ideas? Make your own tacos! Pack the tortillas, protein and all the fixings, so the kids can assemble their own tacos.
Discuss Nutrition
While many children would prefer a bag of chips to a handful of nuts, it's important to help them understand the impact of the snacks they choose. We've all heard how important it is to eat breakfast before a test; wise food choices help us perform our best all day.
If your son or daughter plays sports, explain how protein and healthy fats help fuel the body for activity versus processed foods, which often leave us feeling unsatisfied and lethargic.

Despite our best efforts, we can't always cook dinner at home. When you're looking for a restaurant with plenty of healthy options, bring the whole family to Colony Diner in Wallingford!