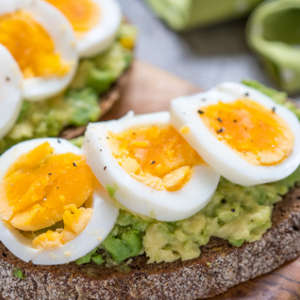 Eating before a workout is critical to keep your blood sugar and energy steady. Skipping the snack or meal before a workout can result in dizziness, lightheadedness and lethargy. For best performance, be sure to eat a good breakfast before your morning routine!
Experts say to bulk up on protein and healthy fats before a workout, but what exactly does that look like on a plate?
How to Fuel Your Body
When trying to eat healthy, your first thought may be to eliminate carbohydrates. However, good carbs break down into glucose, which gives muscles the energy they need to exercise at a higher level. Before a workout, choose "simple" carbs that are easy to digest, like granola, oatmeal, yogurt and whole grain toast.
Protein is beneficial before and after exercise. It fuels your muscles, supports calorie burn and helps the body repair post-workout. Nuts, yogurt and eggs are three easy ways to up your protein intake without powders and bars.
Pre-Workout Meals
Consider these breakfast dishes from our menu to promote better physical performance.
Oatmeal: This breakfast staple takes longer to break down, for long-lasting energy. Add strawberries, bananas, blueberries, raisins or nuts!
Scramlets: There's nothing better than scrambled eggs, so we paired this classic with fresh vegetables like sautéed spinach and sliced mushrooms.
Avocado Toast: The heart-healthy fat in avocados can lower cholesterol! Served with fresh tomato on multi-grain bread.
Egg White Omelets: Take advantage of the many benefits of egg whites, deliciously paired with filling choices like spinach, mushrooms, grilled chicken, tomatoes, avocado and broccoli.
Post-workout, try one of our vegan meals. Foods rich in healthy proteins like tofu and beans help refuel the body. Popular choices include our vegan tofu scramble and yogurt parfait. Visit our Wallingford restaurant to see the full menu today!