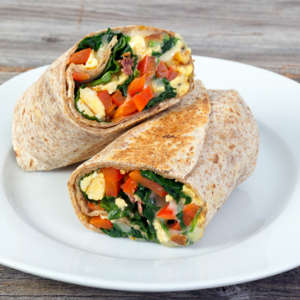 What you choose to eat for breakfast determines whether or not it's your most important meal of the day. While a donut with icing and sprinkles may satisfy your sweet tooth, it will likely result in a sugar crash and hunger cravings soon after.
For a full stomach, energized body and mind, try these delicious breakfast ideas.
Start with Water
Many people like to start the day with coffee, but one other beverage should come first: Water! H2o activates the metabolism and re-hydrates the body after a night's sleep. If you shy away from the plain taste of water, infuse it with your favorite fruit or add a lemon wedge.
Eggs Your Way
Whether scrambled, poached, hard boiled or in an omelet, protein-rich eggs will keep you full and detract bad cravings. Keep it simple with sauteed vegetables or make a healthy breakfast sandwich on whole grain bread. The sugar in bagel and croissant sandwiches will lead to an energy crash later on.
Oatmeal
The complex carbs found in oatmeal break down and provide energy to the body plus, its full of vitamins and minerals. Oatmeal is also known to boost serotonin levels in the brain for improved memory function.
While popular flavors like brown sugar and apple cinnamon are tasty, the pre-made packets are loaded with sugar and extra calories. Try overnight steel cut oats with almond milk, fresh fruit or a dash of pure maple syrup to add natural flavor.
Leafy Greens
Greens are much more versatile than being used in salads. You can add spinach, kale, arugula or another favorite leafy green to a quiche or egg sandwich. Plus, eating greens in the morning starts you on the right track to the recommended daily serving of vegetables!
Healthy Smoothie
On the subject of greens, smoothies are a great vessel for vegetables. Pack your morning drink with fiber, potassium, antioxidants and vitamins from leafy greens, nonfat yogurt, fresh or frozen fruit and flaxseed. Fresh-squeezed juice can cut back on the sugar content.
Upscale Breakfasts
If you meal prep or have time in the morning to create more elaborate breakfasts, try one of these two great dishes.
Stuffed Sweet Potatoes: For savory, load the cooked potato with eggs, vegetables and a sprinkle of cheese. For a hint of sweet, top the potato with plain Greek yogurt and berries. In either case, sweet potatoes have the vitamins, minerals and fiber to keep you full.
Smoked Salmon Bowls: Boiled or poached eggs, leafy greens, plain Greek yogurt and smoked salmon create a delicious and energizing breakfast. Salmon has omega-3 fatty acids for brain, heart and eye health, as well as Vitamin D to fight fatigue.
From Our Menu
Stop by our Wallingford restaurant for breakfast served all day! Start your day off right with one of our customer favorites:
Egg white omelets with healthy ingredients like spinach, mushrooms, broccoli, avocado, asparagus and grilled chicken
Vegan breakfasts, including southwestern tofu hash and coconut milk yogurt parfaits
Whole wheat breakfast wraps with tasty ingredients like egg whites, tomatoes, peppers and turkey bacon
Whole wheat breakfast quesadillas with scrambled eggs, avocado, jalapenos and other healthy filling choices
Colony Diner cooks with fresh, local ingredients to put a healthy twist on classic diner meals. Explore our extensive menu today!