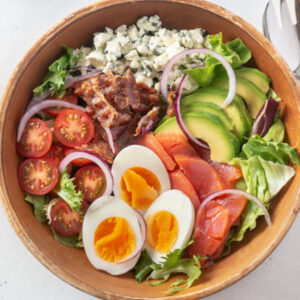 Many people consider eggs to be a "superfood" for their many health benefits. This versatile, tasty food can be incorporated into almost any meal throughout the day.
Here are some reasons to include eggs in your daily diet, along with some of our favorite Colony Diner meals, featuring eggs.
1. Eggs Are Nutritious
Eggs contain almost every nutrient your body needs, including Vitamins A, B5 and B12, selenium, zinc and calcium. These nutrients provide energy and can boost immunity. Eggs also include protein, which is important for growth, development and cell repair.
Our Farm Fresh Eggs can be paired with an 8oz. Rib-Eye Steak, making it a perfect meal for any time of day!
2. Can Prevent Heart Disease
While some studies have linked high cholesterol levels to heart disease, cholesterol is essential to our cell membranes. Produced by the liver, cholesterol can also be obtained from our diet. Although eggs are high in cholesterol, they don't necessarily affect your blood cholesterol.
An egg yolk contains over 60 percent of the recommended daily cholesterol intake but the whites are protein-rich and low in cholesterol. According to Healthline, studies have shown that eating three whole eggs a day does not raise cholesterol in about 70 percent of people.
For the other 30 percent, eggs can mildly raise total and LDL ("bad") cholesterol. If blood levels are high, it's recommend to avoid eating excessive amounts of cholesterol. High levels of LDL cholesterol can raise your risk for heart disease and stroke, while high HDL ("good") cholesterol levels can lower these risks.
Add some eggs to your lunch with our California Salad, topped with grilled chicken breast, crispy bacon, sliced avocado, hard-boiled egg and Balsamic Vinaigrette.
3. Can Improve Eye Health
Eggs can also help improve eye health. They contain lutein and zeaxanthin, two antioxidants that offset the degenerative processes that affects our eyes as we age. They can also help reduce the risk of common eye disorders, such as cataracts. Eggs also contain a lot of Vitamin A which, when lacking in one's diet, is a common cause of blindness.
Get your fix with our Egg Salad Club, served with lettuce, tomato, bacon, mayonnaise, coleslaw, pickle and your choice of French fries, cup of soup or house salad.
4. Support Weight Loss
Adding eggs to your daily diet may help you lose weight. Although low in calories, consuming eggs can leave you feeling full and satisfied. Instead of turning to refined carbs in the morning, like toast, cereal or pastries, start off with some eggs. The nutrition they contain also contributes heavily to weight management.
Our Custom Omelettes are a great way to start off your day. Add some of your favorite vegetables for even more nutrition!

Eat eggs your way, any time of day at Colony Diner and Restaurant. Visit us today!