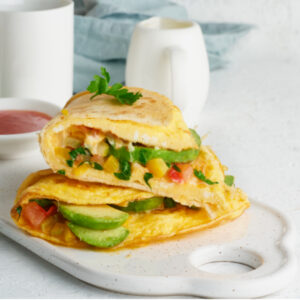 Protein is crucial to your body's health and development. It plays a role in almost every cell process! This nutrient is a building block for strong bones, muscles and tissues.
Adding protein to your diet can provide the energy you need throughout the day, as well as support weight loss. Including protein in your meals is easier than you think!
Here are some tips to get started.
Choose Protein-Rich Foods
Reaching your protein goal can be as easy as switching out certain foods you eat every day for protein-rich ones. As one example, upgrading your morning snack to Greek yogurt can give you up to 20 grams of protein per serving, plus reduce sugar intake!
While snacking throughout the day is to be expected, ditch the junk food for a low-fat cheese. This tasty alternative can provide additional grams of protein you won't find in a bag of potato chips or a candy bar.
There are many other substitutes you can make when you eat at Colony Diner! Stop by for breakfast and craft your own omelet with low-fat cheese, your favorite vegetables and meat to help meet your protein requirement for the day.
Enhance Your Favorite Meals
Adding small amounts of protein to your meals throughout the day can go a long way. For lunch, any salad can be taken to the next level with protein! Adding grilled chicken, beans or nuts to a salad is one quick and delicious way to include this vital nutrient in your diet.
At Colony Diner, you have a variety of protein options to top off your salad, including grilled tofu, shrimp, tuna, salmon and steak.
Rotate Different Meats
While chicken is versatile, there are tons of meat choices that contain protein to keep your meals exciting. For flexibility in your meals each week, rotate between fish, turkey, pork and chicken. While red meat has been linked to a greater risk of cardiovascular disease, it's another good source of protein in small portions.
Don't feel like cooking? Colony Diner has all these meat options and more! Try our Broiled Filet of Atlantic Salmon for dinner.
Incorporate Lentils
Lentils are a legume made up of over 25 percent protein! There are many different kinds, from red, brown to green, to add extra taste, texture and protein to your meals. You can also prepare them in a variety of ways to simply eat, put on a salad, in a soup and more.
Lentils are a great option for vegans to include in their diet. They are filling, versatile and make a great meat substitute. At Colony Diner, we have an extensive vegan menu with choices for breakfast, lunch, dinner and dessert.

Add protein to all your favorite meals Colony Diner and Restaurant. Visit us today!