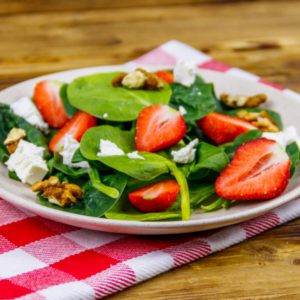 Who doesn't love having healthy, glowing skin? Most people turn to their favorite products to achieve smooth, blemish-free skin but did you know what you eat can also help?
Including certain foods in your diet can benefit skin health and appearance. Here are a few of these popular and versatile foods you can find at Colony Diner!
1. Strawberries
Strawberries are filled with antioxidants and vitamins that produce collagen, a protein that helps to keep skin firm and prevents wrinkles. They also contain anti-inflammatory properties that can protect the skin from UV rays.
Best of all, the alpha-hydroxylic acid found in strawberries can help remove dead skin cells and produce new ones!
Try Our: Strawberry Salad with Fresh Sliced Strawberries, Feta Cheese & Grilled Chicken Breast
2. Eggs
Eggs are another great food for our skin. They contain amino acids that help generate fresh and healthy skin cells. Eggs also contain lutein, a vitamin that hydrates skin by trapping in moisture. The protein found in this versatile and tasty food works to keep your skin firm by repairing the surrounding tissue.
Try Our: High Protein Omelette with Diced Grilled Chicken, Diced Tomatoes & Avocados
3. Avocados
The protein-packed avocado fruit contains vitamins A, D and E. These nutrients are important for moisturizing and protecting your skin. Avocados also have lutein and protein that help protect and repair your skin's cells.
By consuming avocados, you can also increase collagen metabolism. Collagen plays a very big role in the health of your skin by reducing wrinkles and dryness. It's the main protein that works to build and strengthen skin!
Try Our: Avocado Toast served with Sliced Tomato on Open Faced Multi-Grain Toast
4. Salmon
Salmon skin can help strengthen your own skin! The omega-3 fatty acids found in salmon skin are the most found in any other fish. Their anti-inflammatory properties work to reduce and prevent acne. Salmon skin also contains antioxidants and vitamins that keep your skin healthy by preventing the breakdown of collagen.
Try Our: Broiled Filet of Atlantic Salmon served with Lemon Butter Sauce

Ready for a delicious meal that will satisfy your cravings and help your skin glow? You can have the best of both worlds at Colony Diner! Stop by our Wallingford restaurant today.