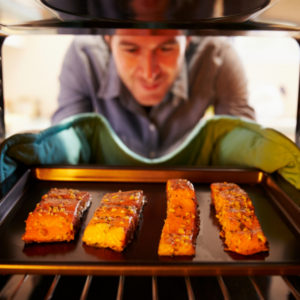 Did you know fish is one of the healthiest foods in the world? It's also one of the most delicious! Fish is packed with protein, Vitamin D and Omega-3 fatty acids for overall wellness. Popular fish include salmon, cod and tuna. Here are three different ways to cook fish.
1. Baked Fish
Fish can be baked in the oven using dry heat. First, season your fish with your favorite spices and seasonings to achieve the taste you desire. Before baking, wrap the filets in tinfoil to help retain the moisture.
The best fish to bake include white, flaky varieties that cook fast including tilapia, halibut, cod and bass. Refer to a recipe for oven temperature and cook time.
Try Our: Baked Stuffed Filet of Sole with Seafood Stuffing, served with Soup or Salad, Potato and Vegetable.
2. Broiled Fish
Broiling also happens in the oven. Once seasoned to your liking, place the fish in a broiler pan and set the oven temperature between 500 and 550 degrees. Similar to a grill, the heat from broiling is direct, which makes it cook quickly and get a nice sear.
Rich fish like salmon, bluefish and mackerel are some of the best to broil, as this method helps strengthen their delectable flavors.
Try Our: Broiled Filet of Atlantic Salmon with Lemon Butter Sauce, served with Soup or Salad, Potato and Vegetable.
3. Fried Fish
Many people enjoy fried fish for its crispy texture. You're likely to find these fried fish on restaurant menus as "Fish and Chips" in New England or "Fish Fry" in the Midwest!
Before frying, enhance the fish's flavor with your favorite herbs and spices. After coating it in flour, egg and breadcrumbs, place the filets in hot oil until they reach the perfect golden-brown color. Scrod, shrimp, clams and cod are great options for frying.
Try Our: Crispy Scrod and Tartar Sauce, served with French Fries and Coleslaw.
More Favorite Fish Dishes at Colony Diner
Broiled Filet of Sole
Broiled Filet of Boston Scrod
Broiled Swordfish
Broiled Seafood Combo (Shrimp, Sole & Scrod)
Baked Stuffed Shrimp
Fried Jump Shrimp
Fried Clam Strips
Fried Filet of Sole
Fried Seafood Combo (Shrimp, Filet & Clam Strips)
Crab Cakes

Are you craving fish? For a delicious baked, broiled or fried fish meal, stop by Colony Diner today!