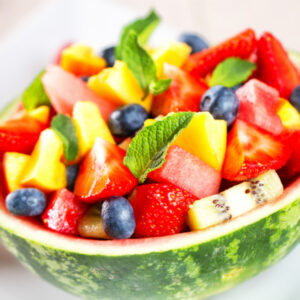 Did you know there are 13 essential vitamins? Each plays a unique role in keeping our bodies healthy and working properly. In addition to supplements, you can get these important vitamins from food! Learn how you can adapt your diet to reap the benefits of vitamins.
Vitamin A
Vitamin A supports the health of our immune and reproductive systems, bones and vision. Beyond its antioxidant properties, Vitamin A helps keep the lungs, kidneys and other vital organs working efficiently. Common sources include eggs, fish, spinach and sweet potato.
Colony Diner Recommendation: Two Eggs Any Style, served with home fries and toast.
Vitamin C
Another vitamin with antioxidant properties, Vitamin C helps your body produce new cells and boosts immunity. This vitamin is especially important in the summer because it protects the cells against free radicals produced when exposed to sun radiation. Common sources include fruit, tomato, peppers and broccoli.
Colony Diner Recommendation: Fresh Fruit Salad with a tasty fruit juice.
Vitamin D
This vitamin plays an important role in keeping your bones and teeth strong. Vitamin D helps regulate your body's calcium absorption and can also reduce your risk for certain diseases. Common sources include liver, salmon, swordfish and mushrooms.
Colony Diner Recommendation: Grilled Liver with fried onions and bacon.
Vitamin E
Another antioxidant, Vitamin E is very important for reproduction, skin and blood health. It also helps many organs throughout the body function properly. Common sources include avocado, tofu, seeds and nuts.
Colony Diner Recommendation: Avocado Toast with sliced tomato on multi-grain bread.
Vitamin K
Our bodies need Vitamin K to product prothrombin, a protein that helps with blood clotting and bone metabolism. It also helps regulate your body's blood calcium levels. Common sources include brussels sprouts, leafy greens and broccoli.
Colony Diner Recommendation: Fitness Wrap with egg whites, turkey bacon, broccoli and mozzarella cheese.
Vitamin B1
Also known as thiamin, Vitamin B1 helps our body convert food into glucose for energy. It also helps metabolize fats and protein within the body. Common sources include soy, tomato, watermelon and spinach.
Colony Diner Recommendation: Spinach and Feta Cheese Omelette, served with home fries.
Vitamin B2
Also known as riboflavin, this vitamin is crucial for maintaining the body's energy supply. Vitamin B2 breaks down proteins, fats and carbohydrates. Common sources include yogurt, cheese, eggs and salmon.
Colony Diner Recommendation: Broiled Filet of Atlantic Salmon with lemon butter sauce.
Vitamin B3
Vitamin B3 is known to boost brain function, improve skin health and reduce blood pressure. Also called niacin, common sources include seeds, avocado, whole grains and eggs.
Colony Diner Recommendation: Power Scramelt with bacon, ham and sausage.
Vitamin B5
Vitamin B5 helps our bodies produce energy by breaking down fats and carbohydrates. It also plays a big role in keeping our eyes, hair, skin and liver healthy. Common sources include beef, mushrooms, chicken and avocado.
Colony Diner Recommendation: Roast Beef Club Sandwich with French fries.
Vitamin B6
This vitamin helps your body maintain the correct amount of amino acid in your blood. It also works to prevent infections and keep your immune system working properly. Common sources include chicken, banana, watermelon and tofu.
Colony Diner Recommendation: Crispy Chicken Salad with chicken tenderloins and shredded cheddar cheese.
Vitamin B7
Also known as biotin, Vitamin B7 plays a vital role in strengthening hair and nails, as well as maintaining healthy skin. Biotin can also help the body metabolize fats and carbohydrates. Common sources include walnuts, cereals, milk and egg yolks.
Colony Diner Recommendation: Vegan Oatmeal topped with bananas and walnuts.
Vitamin B9
Also known as folic acid, Vitamin B9 helps convert carbohydrates into the glucose our body needs to produce energy. Folic acid also helps with tissue growth and cell function. Common sources include seafood, beans, fruits and peanuts.
Colony Diner Recommendation: Southwest Omelette with black beans, tomato, spinach and avocado.
Vitamin B12
In addition to helping form red blood cells by breaking down fatty acids and amino acids, Vitamin B12 also helps support bone health. It's known to promote healthy hair growth too! Common sources include dairy, beef, eggs and poultry.
Colony Diner Recommendation: Cheddar Cheese Casserole with diced ham, topped with cheddar cheese.

To get your daily source of essential vitamins, visit Colony Diner today!