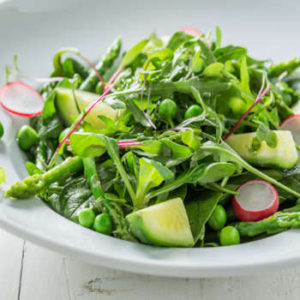 Many people believe it's impossible to eat healthy when dining out at a restaurant, but is this always true? Oftentimes, it depends on the style of restaurant and what you choose to order. When you have fried clam strips at a seafood restaurant, you have likely overlooked the healthier options, such as grilled salmon or seared scallops.
Although it can be difficult to maintain a healthy lifestyle when eating out, consider the following 4 tips before your next restaurant visit.
Be Careful with Salad
When trying to eat healthy, many of us replace greasy fast food lunches with fresh salads made at home. If you want to order an entrée salad while out to dinner, pay attention to the ingredients listed. Are the fresh greens and vegetables weighed down by bacon, fried chicken tenders or tortilla strips? Most restaurants will be happy to accommodate your requests for grilled chicken, no fatty toppings and light salad dressing on the side, so don't be afraid to ask.
Order a Sugarless Drink
Many of our empty calories come from the beverages we drink like soda, sweetened iced tea and wine. Water is the best choice, since health experts recommend at least 8 glasses a day, but there are other refreshing alternatives. Add flavor to unsweetened iced tea with a lemon wedge or replace soda with seltzer water for the same bubbly effect. When you don't drink alcohol at a restaurant, your meal costs much less!
Share a Main Course
Large portions often make our eyes bigger than our stomachs. According to the Center for Science in the Public Interest, many restaurants serve two to three times the suggested portion size, and we falsely believe we are meant to eat the full plate. When out with friends, see if you and another person can agree on one dinner to split. Not only will you pay less for the meal, but you won't leave the restaurant feeling bloated or sick. The same goes for appetizers; share small plates and save your appetite for the main course.
Have Breakfast for Dinner
As kids, eating pancakes for dinner was a special treat. Why not carry on this childhood tradition with a healthy twist? At Colony Diner, we serve breakfast all day, which means you can make your own omelet from open till close. You can build your own – loading it with vegetables and skipping the cheese – or choose one of our egg white creations. Omelets are a great low-carb option when stuffed with healthy greens, like spinach and peppers.

Eating healthy does not mean you have to deprive yourself of great restaurants. At Colony Diner, we have an extensive menu that offers plenty of healthier options with the same great taste of homecooked food. Visit us in Wallingford today!