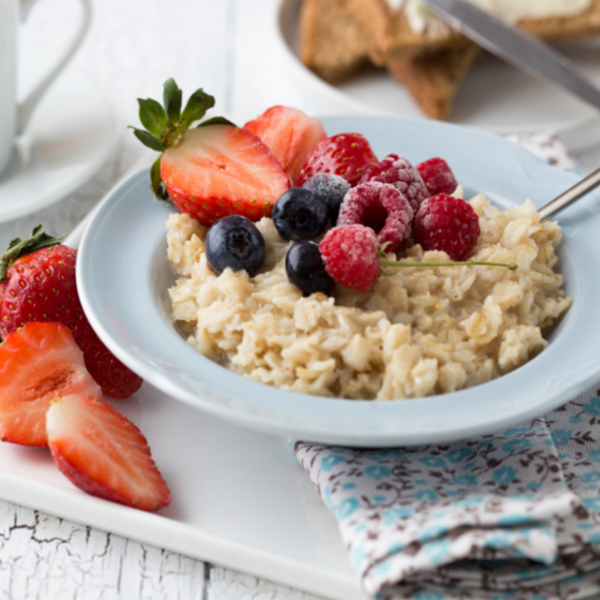 If you have been experiencing stress lately, you're not alone. According to the National Alliance on Mental Illness, nearly 20 percent of US adults have an anxiety disorder. Our bodies are designed to feel and react to stress, including physical, mental and emotional reactions.
Whether due to having too much responsibility on your plate or a big change is happening in your life, stress is very common among us all. However, there are steps you can take to prevent this unwanted feeling, such as changes to your diet! Here are a few foods to help fight off stress.
Berries
Strawberries, blueberries and raspberries are not only delicious, but can help boost your immunity and lower risk for heart disease.
Berries are also packed with Vitamin C, which can promote good brain function. According to WebMD, studies have shown that a diet rich in Vitamin C may keep you in a calmer state of mind.
Try: Our Patriotic Oatmeal topped with Fresh Sliced Bananas, Strawberries and Blueberries.
Dark Chocolate
You can prevent stress while also satisfying your sweet tooth! Dark chocolate can reduce cortisol levels, the primary stress hormone in our body. This tasty treat can also reduce catecholamines, the hormone that helps our body prepare for a "fight-or-flight" response in a stressful situation. Look for a dark chocolate with at least 80 percent cocoa for the best results.
Try: Our Chocolate Cream Pie with a Creamy Chocolate Filling and topped with Whipped Cream.
Salmon
Consuming fatty fish is a great way to help reduce stress. Salmon is a popular choice for its Omega 3 fats, which can boost serotonin levels and help fight inflammation in your brain. This fish also contains Vitamin B12, which plays a big role in managing mood.
Try: Our Broiled Filet of Atlantic Salmon with Lemon Butter Sauce.
Foods to Avoid
When you start feeling stressed, there are a few items you should avoid consuming to prevent it from worsening. These include:
Caffeine
Red Meat
Fried Foods
Sugary Drinks
Alcohol
Baked Goods
If you're feeling stressed, you shouldn't have to worry about cooking dinner tonight!
Visit us at Colony Diner
to enjoy a delicious homecooked meal.