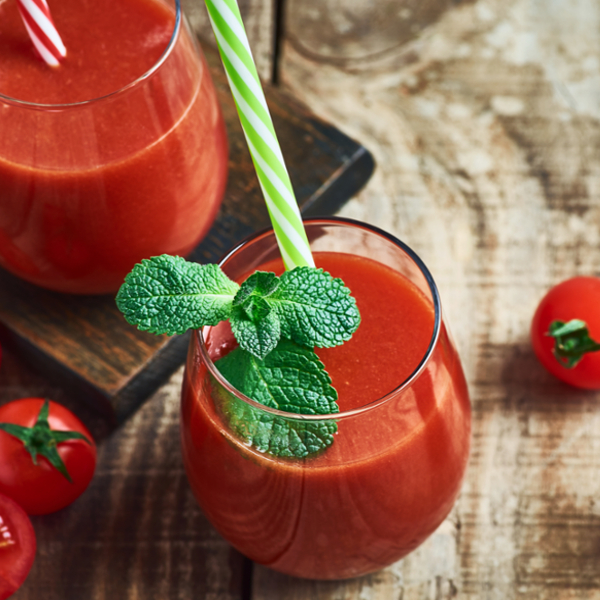 Delicious, juicy tomatoes are packed with vitamins and nutrients like potassium, Vitamin C and folate. Adding more tomatoes to your diet can help prevent cancer, support your heart health and reduce high blood pressure.
Beyond their great taste, tomatoes are versatile! There are countless ways to cook tomatoes and they can also be eaten raw. Here are 4 of our favorite ways to enjoy the tomato plant.
1. Roast Fresh Tomatoes
With very little effort, you can create a tasty snack with tomatoes. While they can be eaten raw with salt and pepper, oven-roasting tomatoes can add great flavor. Cooking tomatoes makes the flavor more intense without additional juices. It's also easy to add your favorite seasonings and spices, like fresh herbs or garlic powder.
Instead of cooking at home, try our Stuffed Grape Leaves over a bed of lettuce with Potato Salad, Tomatoes & Lemon Wedges.
2. Make Homemade Sauce
Tomato sauce is a great source of essential vitamins that can help improve digestive health. Common ingredients include red pepper flakes, garlic, basil and oregano but the beauty of making your own tomato sauce is the ability to customize the flavor to satisfy your taste buds! Toss your favorite pasta with tomato sauce, make a pizza or chicken parmigiana.
Try one of our Italian Specials! Order our Eggplant Parmigiana served with your choice of pasta and topped with marinara sauce.
3. Enhance Any Dish
You can add tomatoes to almost anything! Whether sliced or diced, tomatoes add a fantastic flavor to your dish that you never knew you needed. This may include sandwiches, burgers, omelettes and grilled cheese. You could also use cherry tomatoes as the perfect addition to a refreshing salad.
Try our Trio Salad with one scoop of Tuna Salad, Chicken Salad & Egg Salad over a bed of lettuce with roasted red peppers, tomatoes, cucumbers and Kalamata olives.
4. Drink Your Tomatoes
Tomato juice is a versatile and refreshing drink. Whether for your morning breakfast or a brunchtime Bloody Mary, tomato juice adds a savory note to your drink. Tomatoes can also be purified for soup, famously paired with a grilled cheese sandwich!

Satisfy your tomato cravings at Colony Diner! Stop by today for a delicious meal.