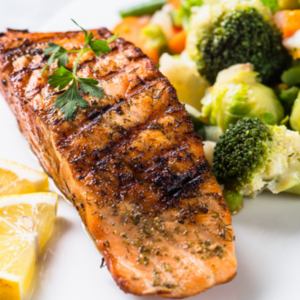 Every year, the US News & World Report ranks diets for the upcoming year. In 2020, the Mediterranean diet took the top spot for the third consecutive year, tied with the DASH diet.
The DASH – Dietary Approaches to Stop Hypertension – diet is designed to prevent high blood pressure. What else should you know about this heart-healthy eating plan?
What You Can Eat
One reason why the DASH diet is popular is for its simple approach. Your diet is based on the food groups you've always been told to eat – fruits, veggies, whole grains, lean protein – and cutting out foods with added sugar and saturated fat.
It's a balanced approach to healthy eating that can be easily maintained, without the risk factors that come with other fad diets. The US News & World Report recommends a slow introduction to the DASH diet:
Add a serving of vegetables or fruit to each meal
Have two or more meatless meals per week
Replace salt with other spices and fresh herbs
Add unsalted almonds or pecans to your snack drawer
Take short walks after eating lunch and/or dinner
Meal prep is a key factor in the success of any diet. If you don't have healthy foods on-hand, you're more likely to reach for the bag of chips or takeout menu. The following snack and meal ideas can get you started on the right track, without making you feel deprived:
Avocado dip with vegetables
Butternut squash fries
Whole-grain pancakes
Baked salmon
Balsamic roast chicken
Whole wheat pasta primavera
Stuffed eggplant
Portobello mushroom burger
Minestrone soup
Grilled pineapple
According to the National Heart, Lung, and Blood Institute, your daily menu should have the following serving sizes of each food group:
Grains: 6 – 8
Vegetables: 4 – 5
Fruits: 4 – 5
Dairy: 2 – 3
Lean Meat: 6 oz.
Fats & Oils: 2 – 3
Although nuts, seeds and legumes are packed with nutrients, they are high in calories. Keep serving sizes small and limit the intake to 4 to 5 servings per week. Sweets do not have to be eliminated from your diet but should be kept to less than 5 servings a week.
Benefits of DASH
Hypertension, otherwise known as high blood pressure, puts you at increased risk for heart disease and stroke, two leading causes of death in the US. Blood pressure above 140/90 makes your heart work twice as hard and can lead to hardened arteries.
DASH can regulate hypertension or lower your risk through a nutrient-rich diet with less sodium. Other benefits of this eating plan include:
Weight loss
Lower cholesterol
Bone strength
Lower risk of cancer
The diet is also family-friendly, so you don't have to worry about getting your loved ones on board with an unsatisfying meal plan.

At Colony Diner, our extensive menu has plenty of options for the DASH diet, including vegan and gluten-free options. Visit our Wallingford restaurant today!