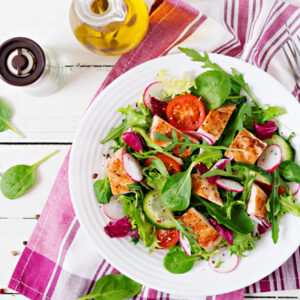 If you've made a resolution to eat healthier this year, you can still go out with friends! You may have more control over the nutritional value and calories in a homecooked meal but can still eat healthy when dining out. The following tips will help you make smarter decisions.
Don't Skip Meals
On a diet, you might feel anxious about a night out with friends, but it won't help to starve yourself throughout the day. Maintain a healthy breakfast, lunch and snack routine, so you're not famished by the time dinner rolls around.
Do Your Research
Choosing the restaurant ahead of time gives you a chance to peruse the menu and narrow down your options. If you're not ready to order, you may feel pressured to choose the first thing you see – which could also be the most calorie-dense item on the menu.
Skip the Bread
Did you know the carbs in bread stimulate insulin production, making you hungrier? Whether the restaurant offers complimentary dinner rolls, chips and salsa or peanuts, just say "no".
Start with Soup or Salad
According to the National Institutes of Health, starting a meal with soup or salad can reduce overall calorie intake by 20 percent. Broth-based soups with vegetables and salads with a source of protein are best. Toppings like cheese, bacon and creamy dressings can make these dishes much less healthy.
Don't Forget the Drink
You could eat the healthiest meal on the menu but erase your progress with a sugary drink. Inventive cocktails, soda and lemonade can have more calories and sugar than people realize. Instead, drink water or unsweetened iced tea – you'll also save a few bucks!
Substitute Sides
Many of us focus on the main event, but sides are equally important. If your meal comes with French fries, mashed potatoes or chips, ask to substitute a side salad, vegetables or fruit. If you're having a hamburger with no bun, don't sabotage your healthier choice with a greasy side dish.
Eat Mindfully
While chatting with friends, you may find yourself mindlessly eating when you're no longer hungry. Between bites, set down your utensils, focus on chewing and savor the aromas.
Another trick is to get a to-go box before eating, so you can give yourself a proper portion. More often than not, what you're served in a restaurant is too much for one sitting.
Order Dessert
Depending on the restaurant, fresh fruit or sugar-free sorbet may not be a dessert option. Rather than a slice of pie or cake, order coffee to finish the meal without extra calories.

At Colony Diner & Restaurant, our extensive menu has plenty of healthy options and substitutions available for your dietary needs. We also have gluten-free and vegan options! To enjoy dining out without the guilt, stop by today!