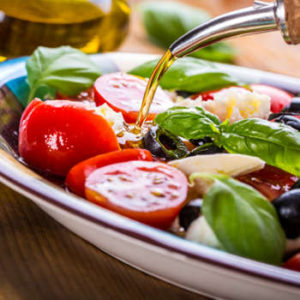 Mediterranean cuisine is inspired by the tastes and traditions of countries along the coast of the Mediterranean Sea, like Greece, Spain and Italy. Over the years, several studies have shown that maintaining a Mediterranean diet can have great health benefits for our bodies.
At Colony Diner, we serve many Greek dishes that are rich in the nutrients found in Mediterranean foods. These nutrients comes from ingredients like fresh mushrooms, olives, spinach, feta cheese, olive oil, onion, garlic, oregano, basil and rosemary.
Improve Your Body's Function
In research studies, the Mediterranean diet has been found to improve memory over time, as well as lower cholesterol and reduce inflammation. Incorporating more Mediterranean ingredients into your diet and greatly reducing red meat and dairy intake can help you maintain a healthy weight and increase your metabolism, so you burn calories faster.
Healthy servings of the following foods help make up the Mediterranean diet:
Vegetables and leafy greens
Legumes
Fruits
Seeds and nuts
Beans
Cereals
Fish and poultry
Olive oil
For a source of protein that also aids in digestion, omega-3 rich fish like salmon is recommended one to two times per week. Whole grain cereals like bread, rice and pasta are a good source of fiber and cut back on the carbohydrates of traditional styles. Finally, rather than seasoning food with salt, decrease your sodium intake but increase the flavor of your meals with fresh herbs and spices popular across the Mediterranean Sea.
The Mediterranean diet may also decrease our risk of developing heart disease and other serious health conditions like diabetes, Parkinson's disease and certain forms of cancer.
For delicious, homecooked, Mediterranean-inspired Greek food like Spanakopita, stuffed grape leaves and Greek omelettes, visit Colony Diner in Wallingford. View our full menu of breakfast, lunch and dinner items, including gluten-free options!