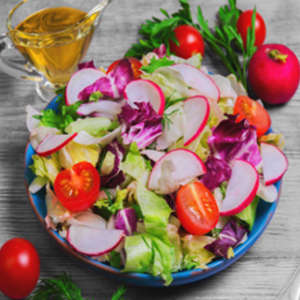 When it comes to eating healthy, many of us struggle to find nutritious foods that keep us full. Dieting should not be about deprivation, but putting our own spin on foods that are good for us so that we enjoy them. The chefs at Colony Diner offer three quick tips to help liven up your salads this spring.
1. Use More Than Lettuce
So, you want to eat healthier, but think that salads are boring. Leafy greens do not keep you full and can be hard to keep fresh. Good news! A salad does not have to be made with lettuce to be healthy. Grains like quinoa or brown rice makes a great base for a salad and offer a different texture than spinach, kale and iceberg lettuce.
2. Add Protein
When you sit down with only a small bowl of lettuce and a few vegetables at lunchtime, your stomach is sure to be growling by the next hour. A salad can still be healthy with clean protein, like grilled chicken, fresh caught salmon or very lean steak. If you're a vegetarian, sweet potatoes combined with beans are fibrous, protein-rich and filling.
On the subject of beans, these legumes can add a lot of variety to a salad on their own. Choose from chickpeas, black beans, white beans, edamame and more to add flavor to your salad and be fuller for longer.
3. Buy Seasonal Ingredients
Come springtime, there are many seasonal vegetables and fruits you can put in your salads for color and zest. Radishes, artichokes and asparagus can add a sweet and slightly bitter taste, while blueberries provide a somewhat sour bite and fresh mint cleanses the palette. Don't forget the snap peas for a little crunch!
At Colony Diner, we love cooking with fresh local ingredients and encourage our patrons to try it at home. If you're interested in recreating any of our house-made salads, visit our restaurant in Wallingford today!