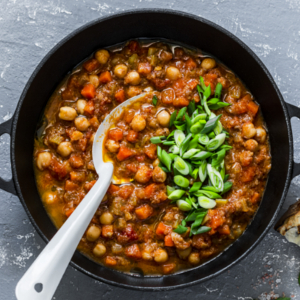 When fall arrives, it's time for homestyle dinners that warm you from the inside, out! Many favorite "comfort foods" served this time of year have two commonalities: Meat and cheese.
Whether you're a practicing vegan or trying to cut back on meat, you don't have to eliminate casseroles from your diet to enjoy an indulgent meal. Believe it or not, you can make your favorite comfort foods vegan with a few easy substitutions.
Why Consider Veganism?
There are many benefits of a plant-based diet. Since vegans cannot consume any animal products, they eat plenty of fruits, vegetables and legumes. These food groups are packed with the nutrients, vitamins, minerals and fiber you need to stay full and energized.
On a vegan diet, you can lose excess pounds and maintain a healthy weight, lowering your chances of Type 2 diabetes, heart disease and certain cancers.
Vegan Comfort Food Recipes
Meat and dairy-free substitutes provide the texture and taste you might be missing with a strictly veggie meal. Tofu, meatless beef, dairy-free cheese and vegan butter can be used to recreate dishes that remind us of autumn. Consider the following 7 "twists" on fall classics:
Meat and Potatoes: Plant-based beef and lots of vegetables.
Vegan Pot Pie: Meatless beef tips, vegan gravy and dairy-free biscuits.
Vegan Tuna Casserole: Plant-based tuna in a creamy cashew sauce.
Vegan Mac and Cheese: Sauce made with butternut squash, cashews, dairy-free butter and cheese.
Mushroom Stroganoff: Sauce made with vegetable broth, dairy-free milk and vegan butter.
Vegan Sloppy Joes: Green lentils replace the ground beef.
Vegetable Lasagna: Kale, carrots, mushrooms, bell pepper, spinach and sweet potatoes replace the ground beef or sausage.
Two staples for a healthy casserole are brown rice and vegetables. If you are not quite ready to give up on milk and cheese, you can start by eliminating meat and increasing your veggie intake.

Colony Diner is proud to serve vegan meals for breakfast, lunch and dinner. From scrambled tofu hash to our vegan BLT and chickpea stew, there is something for everyone to try. Visit our Wallingford restaurant to discover more vegan and gluten-free selections!