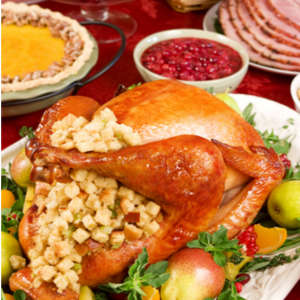 Thanksgiving is the biggest food holiday of the year – and one of our favorites! Many people will agree Thanksgiving dinner is all about the sides. Stuffing, mashed potatoes and green bean casserole are just a few of the staples you'll find on Turkey Day tables across the country.
You likely have a tradition of turkey or ham as the main protein, but why not include some nonconventional sides this year? The following 5 dishes are sure to be crowd-pleasers.
Pumpkin Scalloped Potatoes
Give traditional mashed potatoes an upgrade! Scalloped potatoes are thinly sliced, baked with cream and your favorite cheese. This seasonal recipe adds pumpkin puree for a savory and sweet flavor that's perfect for fall.
Sweet Potato Gratin
Gratin is the cooking technique of crusting an ingredient. Rather than conventional yams topped with marshmallows, impress guests with a beautiful sweet potato gratin. Thinly sliced sweet potato rounds are arranged in concentric circles and topped with chopped almonds, ground coriander, cumin and black pepper.
Roasted Acorn Squash
Common vegetable sides for Thanksgiving include green beans, creamed spinach, glazed carrots and root veggies. Step up your game with seasonal acorn squash, oven roasted with brown butter and your favorite sweet or savory spices.
Cajun Stuffing
Does your family like spicy food? This twist on a Thanksgiving classic adds Cajun seasoning, andouille sausage, shrimp, carrots and celery to cubed bread. Make sure everyone knows this isn't your traditional stuffing!
Butternut Squash Panzanella
Most popular in the summertime, traditional Panzanella salad is dried bread chunks, onions and tomatoes. This autumn-friendly version uses cubed butternut squash, pumpkin seeds, shallots and dried cranberries with stale sourdough bread pieces. You can add a kick of heat with horseradish or sweeten it up with maple syrup.

Colony Diner will be open Thursday, November 28th from 6am – 11pm, serving all your Turkey Day favorites! In addition to Thanksgiving specials, our full breakfast, lunch and dinner menu will be available. Contact us at 203.269.9507 to learn more!