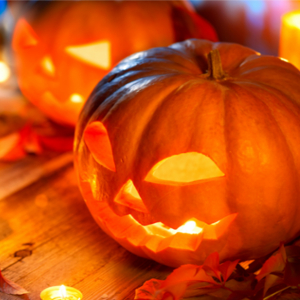 Halloween is a beloved holiday for people of all ages, but especially among children. Picking out the perfect costume, hanging decorations and making jack-o-lanterns all lead up to the one thing kids look most forward to: Trick-or-treating.
After Halloween night, there will be plenty of candy in the house for months. If you're looking to limit your child's sweet tooth this October, try making these fun and spooky health treats!
1. Candy Corn Popsicles
Copy the look of Halloween's most iconic candy with less sugar! It's simple to make your own candy corn popsicles.
To layer the different colors, first freeze a mixture of coconut water and cream of coconut in the ice pop molds. Next, freeze a layer of mango juice on top. Lastly, fill the rest of the ice mold with pineapple juice and freeze.
2. Deviled Egg Eyeballs
Make your deviled eggs the traditional way, mixing the hardboiled egg yolks with mustard and mayo. Once the egg whites have been piped full, top the mixture with a green olive (pimento side up) and sprinkle with paprika.
3. Halloween Vegetables
Use Halloween cookie cutters to turn your favorite veggies into spooky shapes! The sight of pumpkin-shaped sweet potatoes, ghost-shaped squash and witch hat-shaped beets may make it easier for your child to get a serving of vegetables!
4. Jack-o-Lantern Oranges
This fun snack is an easy way to serve your child fruit. Use a sharp knife to cut a complete circle around the top of the orange. Remove this piece and scoop out the insides with a small spoon. Once the orange is hollow, carve a jack-o-lantern face and fill with sliced fruits.
5. Monster Apples
Quarter several apples and cut out the middles to make a mouth shape. Place a strawberry inside as the tongue, sunflower seeds as teeth and white icing for googly eyes with mini chocolate chips as the pupils.
6. Screaming Melon
Use a sharp knife to cut an L-shape halfway into a watermelon and remove the top right quadrant. Then, create jagged cuts along the edges of the missing section to resemble a jack-o-lantern mouth. Fill the void with sliced fruit until its "pouring" out of the mouth.
7. Vegetable Skeleton
Start with a bowl of dip at the top of the tray as the skull, with a leaf of lettuce as hair. Then arrange the rest of the body with an assortment of vegetables, such as celery, carrots, peppers, broccoli, mushrooms and cherry tomatoes.

Are you planning a Halloween party? While you're trying out these festive recipes, let us handle the basics! Our extensive menu has everything from appetizers and cold salad platters to dessert, including vegan and gluten-free options. View our menus today!