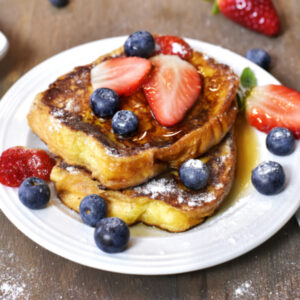 We've all heard that breakfast is the most important meal of the day! Waking up with a delicious morning meal can improve your energy levels and concentration.
Whether you're whipping up breakfast at home or heading to Colony Diner, we can't get enough of our favorite breakfast foods! Here's the countdown of America's top 10 picks.
10. Sausage
Sausage is a popular breakfast option because of its smoky and spicy flavor profile. Order it as a side or incorporate it into your egg and cheese sandwich. Sausage is versatile, making it easy to add to any breakfast meal.
Colony Diner Favorite: Sausage, Eggs and Cheese Sandwich served on a Hard Roll
9. French Toast
Don't be confused by the name "French" Toast – Americans love it too! This sweet, flavorful breakfast meal is adored by breakfast lovers everywhere. Many people find it to be a comforting option, reminding them of their childhood and happy Sunday mornings.
Colony Diner Favorite: Texas French Toast Dipped in Delicious Cinnamon Egg Batter
8. Breakfast Sandwich
A breakfast sandwich is a quick and easy meal to devour in the morning. Pile your choice of bread high with your favorite meats and cheeses or add some vegetables for additional flavor.
Colony Diner Favorite: Bacon, Eggs and Cheese Sandwich served on a Hard Roll
7. Breakfast Wrap
A breakfast wrap is a great option to combine all your favorite meats, cheeses and vegetables into one delicious tortilla. This is also an easy way to pack in protein and start your day off with a burst of energy.
Colony Diner Favorite: Energy Wrap served with Scrambled Eggs, Avocado, Tomato, Onion and Cheddar Cheese
6. Cereal
What's better than exploring the cereal aisle at a grocery store? With a large variety of flavors, there's a cereal option out there for everyone. Cereal is another quick and easy breakfast option, particularly when trying to get kids out the door in the morning – just add milk and enjoy!
Colony Diner Favorite: Assorted Cereal Options with Milk
5. Home Fries
You can't go wrong with adding potato to a meal. Home fries are a tasty side option, with their crispy outside and tender inside. This is another breakfast choice you can easily make at home or find at Colony Diner!
Colony Diner Favorite: Add a side of Home Fries to your favorite Colony Diner meal
4. Avocado Toast
With new health food trends emerging in America all the time, avocado toast has found a place on this list. Not only is this a delicious breakfast choice, but it also contains a ton of nutrients and antioxidants your body needs to function.
Avocado toast is also easy to customize. Choose your favorite type of bread and top it off with vegetables and seasonings of your liking.
Colony Diner Favorite: Avocado Toast served with Fresh Avocado and Slices Tomato on Open Faced Multi-Grain Toast
3. Chicken and Waffles
When you can't decide between savory or sweet, choose chicken and waffles! If you're looking for a meal to leave you feeling full and satisfied, this mouth-watering dish topped with butter and syrup can be the perfect choice.
Colony Diner Favorite: Crispy Southern Fried Chicken served alongside Belgian Waffles
2. Pancakes
Pancakes have always been a popular breakfast food. A short stack of buttermilk pancakes can be a sweet and filling treat to enjoy any time of day! Looking for something more? You can add your favorite ingredients for the desirable taste you crave. Some popular choices include chocolate chips, blueberries and walnuts!
Colony Diner Favorite: Buttermilk Pancakes topped with Fresh Sliced Strawberries
1. Bacon
Did you guess correctly? Bacon is crowned America's favorite breakfast food! It's salty and savory flavor is what makes this breakfast side so addicting. You can add it to your favorite sandwich, wrap or just eat it on its own.
Colony Diner Favorite: Breakfast Combo served with Two Pancakes or Two French Toast with Two Eggs, Two Sausage Links and Two Bacon Strips

Do you agree with this top 10 list? Let us know your thoughts on the Colony Diner Facebook page, then stop by for some breakfast!