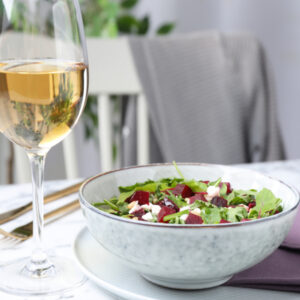 Having a glass of wine with a meal can be a great way to relax and enjoy your favorite foods. When you pair the right wine and foods together, you can enhance their flavors.
With hundreds of different varieties of wine, you might feel overwhelmed. However, you don't have to be an expert to know the perfect pairings. Here are some basic tips for finding the best combinations!
Consider the Weight
The weight of a wine is also referred to as its body. This describes how the wine feels in your mouth rather than how it tastes. The weight is broken into three categories: Light body, medium body and full body. Usually the fuller the body, the higher the alcohol content.
Some full-bodied wines include Merlot, Malbec and Cabernet Sauvignon. These heavier wines are best paired with heavier foods. Try pairing a glass of red with our Oven Roasted Turkey dinner with all the fixings!
If you're looking to pair a glass of wine with cheese, Provolone, Blue Cheese or Mozzarella is the way to go. A few examples of light-bodied wines include Riesling, Pinot Noir and Pinot Grigio. The opposite of full-bodied, lighter wines should be paired with lighter foods. Try one of these wines with a light salad or mild-flavored cheeses such as Gouda. Our Greek Salad Supreme paired with a glass of Pinot Grigio can make the perfect meal!
Match with the Meat
Pairing wine with meat is a great way to experience a variety of flavors all in one bite! When it comes to bold meats like steak or turkey, a red wine is the best option. The fat in the meat brings out more of the wine's fruit flavors. Try pairing our Specialty Seasoned Prime Rib with a glass of Merlot.
With lighter meats such as chicken or fish, white wine is the way to go. The higher acidity in these wines makes them the perfect complement to the flavors of these meats. A Broiled Filet of Sole from Colony Diner can be paired beautifully with a glass of white wine.
Our Favorite Pairings
Chardonnay with our Broiled Filet of Boston Scrod with Lemon Butter Sauce.
White Zinfandel with our Tropical Salad including Fresh Fruit with a Scoop of Cottage Cheese & Jell-O on a Bed of Crisp Lettuce.
Merlot with our Grilled Marinated Chicken Breast served with Salad, Potato and Vegetables.
Pinot Grigio with our Fresh Jump Shrimp Cocktail served with Cocktail Sauce.
Cabernet Sauvignon with our Roast Loin of Pork served with Salad, Potato and Vegetables.
Pair your favorite wine with a meal from Colony Diner & Restaurant! Visit us today.