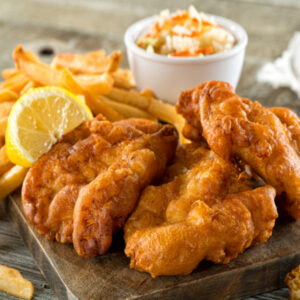 Nothing beats some delicious seafood in the summer! After spending the day enjoying the sights, sounds and smells of the ocean Hammonasset Beach, you may start craving that fresh fish taste.
Especially in New England, this is the season to indulge on seafood. Colony Diner & Restaurant has the perfect dishes for you to try this summer.
Crab Cake Benedict
You can experience that fresh, salty flavor any time of day! Our Crab Cake Benedict is the ideal breakfast option for your busy mornings before heading to the beach.
You can't beat the Two Poached Eggs on a Toasted English Muffin, with House Made Crab Cakes topped with Hollandaise Sauce, served with Home Fries.
Fried Filet of Sole
Grab this Five Star Special to-go for a lunch on the beach! It will remind you of that sweet fish flavor you've always loved.
Try our Fried Filet of Sole on a Toasted Sesame Seed Bun with Lettuce, Tomato & Tartar Sauce perfectly paired with Cole Slaw, Pickle & choice of French Fries, Soup or House Salad.
Tuna Salad Club
Is Tuna more your style? Try our tasty Tuna Salad Club served with Lettuce, Tomato, Bacon, Mayonnaise, Cole Slaw, Pickle & choice of French Fries, Cup of Soup or House Salad.
Switch to gluten-free bread for only $1.29! This is also a perfect dish for your kiddos. The Fireman kid's meal comes with Tuna Salad on Toad, served with a side of French fries.
Crab Cakes
Start off any meal with two House Made Breaded Crab Cakes. Low in fat and calorie, this healthier appetizer can also satisfy your hunger and cravings for fish. Try pairing them with our Fresh Jumbo Shrimp Cocktail!
Shrimp Scampi
Our Shrimp Scampi is the ultimate Sautéed Special. With your choice of Spaghetti, Linguini, Penne or Angel Hair, enjoy Jumbo Shrimp sautéed in Lemon Garlic Butter & Wine Sauce. If you want to add more protein to the dish, ask to include sautéed Chicken Breast.
Seafood Combos
If you can't decide what you're in the mood to eat, we have the perfect solution! Our Seafood Combos are the complete Seafood Dinner package.
Choose between Broiled or Fried. The Broiled Combo includes Stuffed Shrimp, Stuffed Sole & Scrod. The Fried Combo includes Shrimp, Filet & Clam Strips. Both meals are served with Soup or Salad, Potato & Vegetable.

You don't have to catch your own fish to have a great seafood meal. Just come to Colony Diner! View our complete menu.