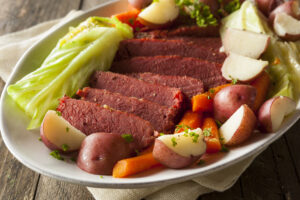 St. Patrick's Day 2020 is on March 17th, but we're celebrating all month long!
Satisfy your Irish food cravings with our everyday favorites, as well as our annual Corned Beef and Cabbage meal with all the trimmings.
St. Patrick's Day Specials
Corned beef is popular year-round, especially for a classic diner breakfast or lunch, but our traditional St. Patrick's Day meal is so special, it only comes around in March!
Corned Beef & Cabbage – served with potatoes, carrots and peas – get it before it's gone!
Corned Beef Hash & Eggs
Corned Beef Hash Omelet
Irish Eggs Benedict
Reuben Sandwich
Corned Beef on Rye
Side of Corned Beef
History of Irish Food
The Irish are famous for eating plenty of potatoes! The first spud was grown near Cork, Ireland in 1589 and soon became an Irish cooking staple. Popular potato-based dishes include colcannon, Irish stew and shepherd's pie.
Wondering how corned beef and cabbage became the customary St. Patrick's Day dinner? It's actually more of an American tradition. Irish immigrants who came to the United States in the mid-19th century were unable to afford boiled bacon, a popular dish in Ireland.
To replicate the traditional meal, immigrants used the cheapest meat and vegetable available: Beef brisket and cabbage. Over time, different cultures developed their own ways to prepare the dish, such as brining (salt-curing) the brisket.

Stop by Colony Diner & Restaurant all March long as we celebrate St. Patrick's Day with Irish-inspired breakfast, lunch and dinner specials. For more information, contact us today.