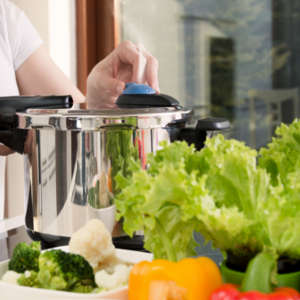 Many people think home cooking is too time-consuming and complex for basic skill sets. If you have a busy schedule, it may seem easier to grab a quick breakfast or order takeout for dinner.
Yet there are basic hacks that can make home cooking more efficient, approachable and fun for the average person.
1. Make Time for Meal Prep
The weekends are our personal time. While meal prep may be the furthest thing from your mind, it can save you time during the week.
Spending time with a loved one can make the process less tedious. Get together with a friend, family member or significant other and make grab-and-go meals for the week ahead.
2. Use a Slow Cooker or Instant Pot
You might not be able to spend all day in the kitchen, but a slow cooker has the time! There are thousands of recipes that simply require you to add the ingredients and set the timer.
On the other hand, you can make dinner in a flash with the Instant Pot, a pressure and multi-cooker that significantly speeds up normal cooking times. For instance, you can cook chicken breasts in 6 to 8 minutes!
3. Take Advantage of Gadgets
Depending on the recipe, prep time may exceed cooking time. Especially if you lack knife skills, vegetable choppers, spiralizers and other kitchen gadgets can make these tedious steps safer and less time-consuming.
4. Freeze Fresh Herbs
Chopping herbs is another slow process that adds time to meal preparation. One time-saving hack is to freeze your favorite herbs for future use. Add the herbs to an ice cube tray, cover with olive oil and place in the freezer.
When it comes time to season a dish, toss the herb cubes right into your hot pan or slow cooker.
5. Speed Up Slow Processes
There are plenty of common cooking practices that simply add time to your efforts. Keep these 5 quick tips in mind:
Roasting Garlic: It can take 45 minutes to roast a head of garlic in the oven. Approximately seven minutes in the microwave with olive oil and water gives you the same great result!
Melting Butter: To soften refrigerated butter, many people take it out hours ahead of time. Placing a warm glass over a slab of butter makes it spreadable in a matter of minutes!
Roasting Vegetables: Chopping and roasting vegetables typically takes over an hour. While you're cutting, place a sheet pan inside the oven while it preheats, so it's already warm when the vegetables are ready to roast.
Hulling Strawberries: Remove the stem with a straw, without losing too much strawberry off the top.
Shredding Chicken: Pulled chicken is a versatile ingredient but can take time to shred. Use a hand mixer to pull apart the cooked breasts or thighs to significantly cut down on time spent!
With these basic hacks, you'll be whipping up quick family meals in no time! Yet, there will always be times when you don't feel like cooking. Bring the family to Colony Diner for delicious meals, large portions and a fun atmosphere. Visit our Wallingford restaurant!