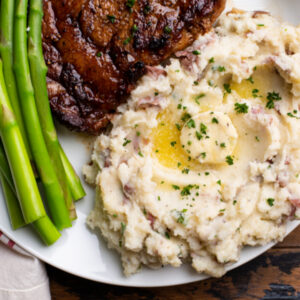 National surveys show potatoes are one of our favorite vegetables! According to the International Potato Center, they are the third most important food crop in the world.
Potatoes are versatile, affordable and easily accessible in a number of shapes, sizes and colors. Learn more about our most loved ways to prepare and eat potatoes at Colony Diner!
1. Baked Potato
Baking is an easy way to prepare this vegetable. Whether in the microwave or oven, baked potatoes have a crisp outside and soft, delicious inside. Depending on the temperature you bake a potato at will determine the fluffiness inside. The more heat, the fluffier it will be!
Arguably the best part of the baked potato, you have to decide on your toppings! After adding salt, pepper and butter, it's time to get creative with your favorite flavors. Some popular options include sour cream, cheddar cheese, jalapenos and bacon bits.
Try: Order a Baked Potato alongside your main dish!
2. Sautéed Potatoes
Get out your frying pan to sauté! After chopping up the potato and placing it on a slightly oiled frying pan, you can quickly sauté the potatoes until you reach the crispiness you desire. Don't forget to season with salt, pepper and any other spices of your choice.
Sautéed potatoes make a fantastic side dish for any meal. They can be a delicious addition to your egg sandwich in the morning or paired with a roasted chicken dish for dinner.
Try: One of our Egg Sandwiches served with a side of Home Fries!
3. Fried Potatoes
Although it might not be the heathiest way to consume potatoes, frying is definitely one of the most popular! French fries and tater tots are a favorite side dish for their addicting salty flavors. They are easy to eat and can be dipped in a variety of different sauces.
Add some more flavor to your already mouthwatering fried potatoes! The easiest way is to dip them in sauces like ketchup, honey mustard, barbeque sauce or ranch dressing. Feeling bold? Top your fries with melted cheese and bacon for a flavor explosion.
Try: Our Disco Fries with Melted American Cheese & Brown Gravy!
4. Mashed Potatoes
Of course, we can't forget about classic mashed potatoes! This side dish is a staple comfort food for many holiday dinners, family gatherings or having a meal out at a restaurant. There are also a few main dishes that include mashed potatoes as a main ingredient, including Shepard's pie, casseroles and stuffed meatloaf.
Similar to baked potatoes, there are many items you can add to mashed potatoes to enhance their flavor. Butter, salt and pepper are common, while other spices like garlic, rosemary and paprika are also delicious.
Try: Our Grilled Marinated Chicken Breast with a Side of Tasty Mashed Potatoes!

What's your favorite way to eat potatoes? Enjoy them today at Colony Diner & Restaurant!