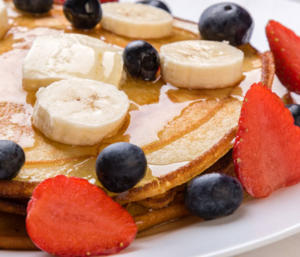 Whether you're looking to fuel up for a day at the beach, beat the heat on a lunch break or get out for date night, Colony Diner & Restaurant is ready to serve you.
Here are some of our MUST-EAT summer meals!
Breakfast
Red, white and blueberry! Our Patriotic Pancakes can satisfy your sweet tooth on a summer morning. Try this stack of three blueberry pancakes, topped with fresh strawberries, bananas, blueberries and whipped cream.
Add a savory item on the side, such as bacon or sausage, for the ultimate breakfast combo!
Lunch
Sweeten up your summer lunch with our new Strawberry Salad. The Vitamin C found in strawberries is helpful for sun-kissed skin and also provides that refreshing taste you crave after spending time in the heat.
This house salad with grilled chicken breast, fresh sliced strawberries and feta cheese is the perfect choice!
Dinner
After spending a day by the ocean, come enjoy a fresh seafood dish at Colony Diner. Try our Shrimp Scampi over your choice of pasta or rice. Savor the taste of jumbo shrimp, sautéed in lemon garlic butter and wine sauce.
For big seafood fans, our Broiled Seafood Combo is the ideal summer plate for you. This large spread of stuffed shrimp, sole and scrod will leave you feeling satisfied.
Dessert
Fourth of July-themed dessert? Yes, please! Our Patriotic Cheesecake is the perfect treat to bring to your summer barbeque. Topped with blueberries and strawberries, we're confident this will be a crowd pleaser. Don't forget the ice cream!

Try these delicious dishes and more at Colony Diner! Our extensive menu also includes vegan and gluten-free items for those with specific dietary needs or restrictions. Check out our full menu today.