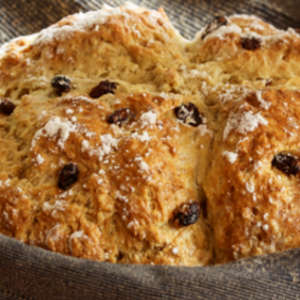 St. Patrick's Day may be weeks away, but many of the ingredients that represent the luck of the Irish will sell out early. For instance, the infamous corned beef and cabbage dinner. Even if you have no trace of Irish in your ancestry, many people love to celebrate St. Patrick's Day.
We share 7 festive dishes to help you throw the perfect party on March 17th.
Appetizers & Side Dishes
At a St. Patrick's Day party, there is no light eating. These two starter dishes are Irish favorites and will surely fill up your guests until dinner is served.
Irish Soda Bread
This traditional quick bread is made with baking soda instead of yeast. It is typically a plain bread, but can have add-ins like dried currants, caraway seeds or raisins.
Colcannon
This customary Irish side dish is the best of both worlds: Cabbage and mashed potatoes. Serve it alongside your corned beef or lamb main course and you'll be sure to please the crowd!
The Main Course
Irish dinners are all about comfort food. On St. Patrick's Day, this is no exception! Be sure to serve meat, starch and vegetables to truly exude the Irish spirit.
Corned Beef
This salt-cured beef product is a St. Patty's Day staple! We recommend slow cooking it for hours with hearty root vegetables and cabbage. Let the meat tenderize and all the flavors meld before serving.
Irish Stew
Although spring is right around the corner, you never know what March weather in New England will be like. Irish stew is a comforting combination of lamb or beef stew meat, carrots and potatoes in a delicious beef or chicken broth.
Shepherd's Pie
Another Irish classic! Depending on the recipe you follow, this dish can resemble a hearty stew. The basic ingredients are ground beef or lamb, mashed potatoes, carrots, peas and corn. Recipe twists include the use of dark beer, bacon and different spices.
Bangers and Mash
You will likely find this dish on the menu of any Irish-inspired restaurant. It includes two Irish favorites: Sausages and mashed potatoes. Choose the sausage that you like best; pork, lamb or beef are popular selections for St. Patrick's Day.
A Decadent Dessert
It's no surprise that stout beer would find it's way into Irish desserts. Did you know that Guinness makes a great ingredient in many traditional desserts?
Guinness Cupcakes
Wow your guests with chocolate stout cupcakes! A carbonated beverage like beer is an awesome trick to add air to your batter and fluff up your cupcakes while they bake in the oven.
If you would rather do more celebrating than entertaining on St. Patrick's Day, let us do the cooking! We can accommodate in-house guests and catering orders. Contact us today for more information.