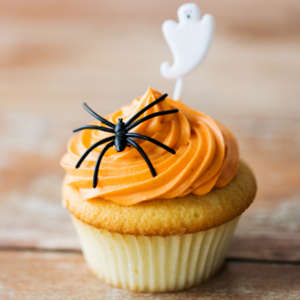 Halloween is the one day a year we get to dress up and act like someone else. Contrary to what you may think, this holiday is not only for kids to collect candy from the neighbors. Every year, it is celebrated by people of all ages!
Whether you are hosting a Halloween gathering for kids or adult friends, we have 12 spooky food ideas to try. 
Halloween Party for Kids
If you are having 20 of the neighborhood kids over, plus your child's classmates and players from the soccer team, the food should be plain and simple. While we definitely recommend getting creative, basic ingredients are best when you don't know what different kids like or are allergic to.
Appetizers
Start out the evening with some crowd-pleasing snacks. A mix of caramel popcorn and Reese's Pieces is easy, festive and scrumptious. However, the kids will be eating candy all night and likely for the weeks to come. With this in mind, another healthy appetizer choice could be a platter of vegetables arranged as a skeleton.
The Main Meal
Turn pigs in a blanket into mummies in phyllo dough! When a mini hot dog is enveloped inside phyllo, the flaky dough can resemble mummy wrap. To save money on takeout pizza, individualized "ghost pizzas" are sure to please the kids without breaking the bank. Use ghost-shaped cookie cutters to cut the dough and let the kids choose their own toppings.
Devilish Desserts
It's time to really get in the holiday spirit! Transform simple gingerbread cookies into skeletons with Halloween cookie cutters and a little white icing. A healthy alternative could be dark-chocolate covered apples with Halloween-themed lollipop pokers.
Halloween Party for Adults
At a no-kids party, there is more freedom to be creative with your Halloween food. Yet, that doesn't mean you can't start simple.
Appetizers
Create a pumpkin cheese ball in minutes by adding a braided pretzel twist in the center as the stem. Other ghoulish appetizers include monster eyes – cheese and sausage puff pastries topped with a green olive – and pumpkin deviled eggs – use extra paprika for garnish and top with a chive as the stem.
The Main Meal
The first rule of hosting a party is to never let your guests go hungry. For the next course, wow your friends with a black bean and pumpkin soup. With each bowl, create a spider web design with a mix of yogurt and pumpkin puree.
Despite age, almost everyone loves macaroni and cheese. Take this basic recipe up a notch by creating orange bell pepper Jack-O-Lanterns. Cut the top off each pepper, carve a face into the base, fill with macaroni and cheese, and replace the top to complete the pumpkin look.
Devilish Desserts
For dessert, nothing can beat seasonal pumpkin cupcakes with cream cheese frosting. Garnish with a piece of Halloween candy. Dessert could also be a signature cocktail. Try a cream-based liquor to create an indulgent "adult milkshake."
Hosting a party can be difficult. To make it a little easier, why not order food from Colony Diner? Choose from cold salad platters, house made desserts and more from our extensive menu. Contact us today to learn more!