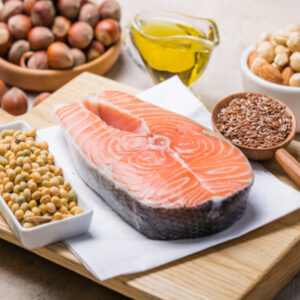 What is cholesterol? This waxy type of fat found in your blood helps the body build healthy cells, produce vitamins and hormones. Although your body needs cholesterol to stay healthy, too much of this substance can cause major health problems.
Foods that are high in saturated and trans-fats can raise your LDL or "bad" cholesterol levels. While HDL or "good" cholesterol works to eliminate the bad, LDL increases fatty buildup in your arteries, which slowly restricts blood flow.
Here are a few foods to include in your diet that help lower bad cholesterol.
Fatty Fish
Meat is high in protein, saturated fats and can boost your LDL levels. Try eating less red meat in favor of fatty fishes like salmon, swordfish and trout.
These types of fish contain omega-3 fats that work to lower cholesterol by slowing down the buildup in your arteries. Omega-3 fats can also reduce common types of fat in your bloodstream like triglycerides, which are found in carbs, sugary foods and alcohol.
Adding fatty fish to your diet may be easier than it seems. Top your favorite salad with grilled fish or make it a sandwich with delicious vegetables!
Try: Broiled Swordfish with Lemon Butter Sauce served with Soup or Salad, Potato & Vegetable
Beans
Another food that can help lower bad cholesterol is beans! They are very rich in soluble fiber, which help prevent LDL cholesterol from entering your bloodstream. Beans also keep you feeling full for longer because your body takes a longer time to digest them. Beans contain protein, vitamins and minerals that can all lower your risk of cardiovascular disease.
Beans can be a great addition to many of your go-to meals. Whether you toss them into a quesadilla or your morning omelet, adding beans to your diet can benefit your health!
Try: Southwestern Hash served with Scrambled Tofu, Blank Beans, Tomatoes, Peppers & Onions
Nuts
Almonds, pecans, walnuts and pistachios can also reduce your cholesterol. If you consume the recommended 2 ounces of nuts a day, they can provide your body with the high levels of omega-3 fatty acids that work to slow down buildup in your arteries. They also contain proteins and antioxidants that can help keep your heart healthy!
Similar to beans, nuts can easily be added to your favorite meals like oatmeal and cereal, or you can grab a handful before running out the door!
Try: Bowl of Hot Oatmeal topped with Raisins and Nuts
Strawberries and Apples
These low-calorie fruits contain pectin, a soluble fiber that can reduce LDL cholesterol as well as blood pressure. To do so, pectin binds to your small intestine and prevents bad cholesterol from entering your bloodstream.
Not only can you eat these delicious fruits on their own, but you can also incorporate them into a variety of tasty meals. Try making a salad with apples, strawberries and other sweet fruits. You can also top off your oatmeal or cereal with these fruits.
Try: Strawberry Salad served with Grilled Chicken Breast, Fresh Sliced Strawberries & Feta Cheese

At Colony Diner, we offer many nutritious meals that can help lower bad cholesterol and promote a healthy lifestyle. Stop by our Wallingford restaurant to try our menu today!